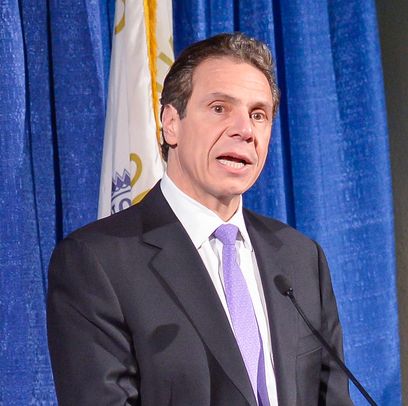 Photo: Governor Andrew Cuomo / Flickr
It was a standard campaign stop, a visit to the voter-rich Orthodox Jewish neighborhood of Borough Park in Brooklyn six days before Election Day. The only reason Governor Andrew Cuomo's appearance got much attention was the colorful choice of words one of the local elected officials used to describe Cuomo to the crowd. "This tough guy," State Senator Simcha Felder said, "is also made out of mush."
Felder meant it as a compliment — that Cuomo, not always the warmest retail campaigner, was sensitive, especially when it came to education money, a hot issue in Orthodox precincts. But the greater political significance was that Cuomo was devoting attention to Felder — and how that foreshadows a new campaign that will intensify as soon as Tuesday's ballots are counted.
There are indeed some head-to-head results worth watching in city and state politics. The top of the list, in a train-wreck way, is the Brooklyn–Staten Island congressional race matching an indicted candidate versus an incompetent one — Republican incumbent Michael Grimm, that is, who is favored to hold on against Democratic challenger Dominick Recchia, an amiable former city councilman who has run an awful campaign.
But two subplots hold more meaning for how New York will be governed come January. The first pits the Working Families Party, which grudgingly endorsed Cuomo for governor, against the Women's Equality Party, which Cuomo invented this summer.
The WFP needs 50,000 votes to retain its statewide ballot line and should get them fairly easily. But the WFP could be weakened by falling behind the Green Party and the Independence Party — and maybe Cuomo's WEP. The governor has spent millions promoting the WEP, chiefly to raise his own stock among female voters, but he is unlikely to be upset if the WEP happens to siphon some votes from the WFP. That, in turn, might make the WFP less of a thorn in Cuomo's side.
But the biggest fallout may come in the battle for control of the State Senate. Cuomo, in accepting the WFP's endorsement in June, promised to push for a Democratic majority. His follow-through has been minimal; I'd be surprised if he's spoken the words Working Families Party voluntarily in the past four months. Yesterday, in one final snub, Cuomo left the WFP off a list of ballot lines on which he appears. "It was always going to be a marriage of convenience," one of the governor's allies says, in an understatement. Last week the WFP took the extraordinary step of sending out a letter to supporters basically apologizing for endorsing Cuomo.
There are five crucial state Senate races: Terry Gipson (D) versus Sue Serino (R) in Dutchess County; Ted O'Brien (D) versus Rich Funke (R) in Rochester; Cecilia Tkaczyk (D) versus George Amedore (R) in a district near Albany; Justin Wagner (D) versus Terrence Murphy (R) in the lower Hudson Valley; and a three-way scramble in Buffalo. The most recent polls gave the Republicans the edge in the first three, and rated the last two toss-ups.
Unless one side sweeps, however, the most probable outcomes give the Senate majority party a margin of one or two seats — and delivers the real power to the free agents. There's the Independent Democratic Conference, the five-member group headed by Jeff Klein that currently shares a leadership role with Senate Republicans. And there are a handful of malleable members, like Felder. In 2012 he was elected as a Democrat. Before being sworn in, however, Felder announced he would caucus with and vote mostly with the Republicans.
Cuomo may have gotten an early start in Borough Park last week, but he will have competition as he coaxes the fence-sitters. Mayor Bill de Blasio loaned his top political aide to this fall's campaign push for a Democratic Senate majority, and he'll tailor his ongoing lobbying to who wins and loses Tuesday. "The real campaign," an Albany strategist says, "starts Wednesday."