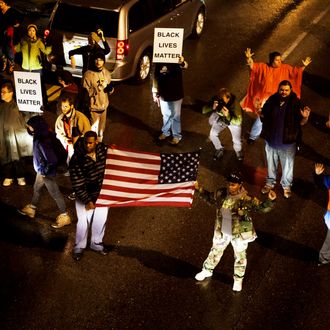 Photo: Samuel Corum/Anadolu Agency/Getty Images
Following a long, tense weekend in the St. Louis area, the 12-person grand jury tasked with deciding whether Ferguson police officer Darren Wilson will face criminal charges for killing Mike Brown has finally finished deliberating. According to prosecutors, the decision will be announced sometime this evening.
Missouri Governor Jay Nixon traveled from the state capital to St. Louis on Monday afternoon, though a spokesperson "did not say why." He was later spotted in a restaurant on Ferguson's West Florissant Avenue. Meanwhile, the New York Times reports:
People close to Officer Wilson said that he has spent the last several days in nervous anticipation while preparing for the possibility of being indicted. Last week, he met with Jeff Roorda, an official with Shield of Hope, a charitable foundation for police officers that had offered to provide him with bail money, should it be needed.

Officer Wilson's lawyers have spoken with officials in the prosecutor's office to discuss how the officer would turn himself in if the grand jury returned an indictment. Legal specialists said the likely charges that Mr. Wilson could face, if indicted, range from second-degree murder to involuntary manslaughter.
Earlier in the day, it was reported that Wilson, who has mostly been in hiding since shooting Brown this summer, quietly married fellow cop Barbara Spradling at a local municipal building.
After learning that the announcement was imminent, the Brown family requested four-and-half minutes of silence in honor of their son before any demonstrations begin. In a statement, they said, "We are not here to be violent. We are here in memory of our son. We are here for protection of all children. We are here to support justice and equality for all people. We lift our voices to ensure black and brown men, women and children can live in this country without being devalued because of the color of our skin." Meanwhile, the Ferguson-Florissant school district has canceled all of its Tuesday classes.