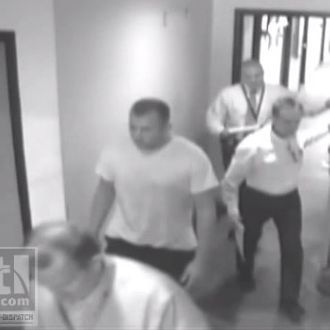 Surveillance video of Darren Wilson.
Since he fatally shot Michael Brown on August 9, Ferguson, Missouri, police officer Darren Wilson has managed to disappear so completely that he didn't show up to testify in several felony cases, and it was news when he appeared in choppy surveillance footage. However, CNN's Brian Stelter reported on Sunday that Wilson has found something worth risking his privacy over: He's been secretly meeting with several high-profile TV anchors, including Matt Lauer, George Stephanopoulos, Scott Pelley, Anderson Cooper, and Don Lemon, to determine which one will get an exclusive interview.
Such meetings are common when anchors are fighting over "gets." Stelter says the purpose is to "establish trust and comfort," and his sources say the journalists did most of the talking in their meetings with Wilson.
Still, people were irked that members of the media know where Wilson is hiding out, and accused them of conspiring to protect Wilson. Stelter's two colleagues at CNN felt compelled to respond:
It's unclear if Wilson accepted any of the interview offers, but 60 Minutes is said to be in "especially hot pursuit." It's also possible that plans for his TV debut will be derailed by an indictment from the grand jury, but a police union official said the officer doesn't expect to see criminal charges.