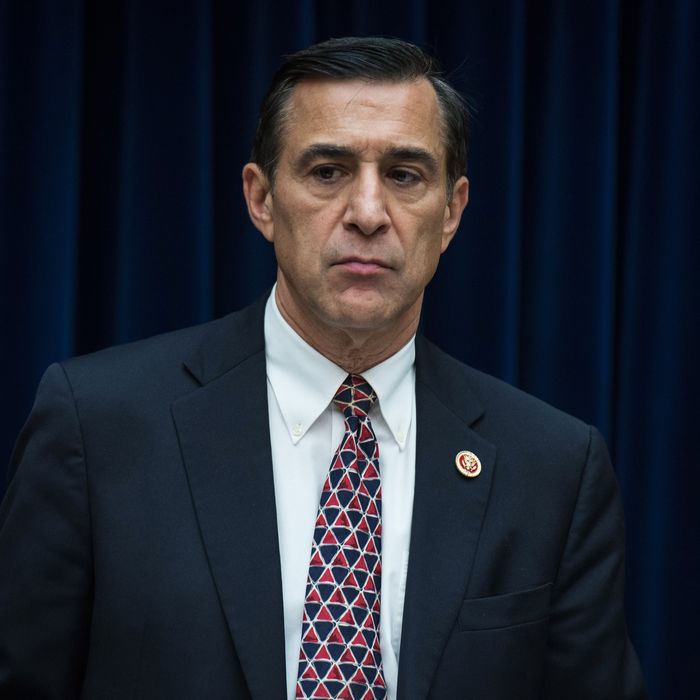 Darrell Issa of the House Oversight Committee.
Photo: Nicholas Kamm/AFP/Getty Images
Christmas has come early for the House Republicans. 
Bloomberg News has a big scoop on some funny business regarding the Affordable Care Act: This fall, the White House added dental plans to its Obamacare enrollment figures. Democratic officials did so, the House Oversight and Government Reform Committee charges, in order to boost the total enrollment number over 7 million. 
Without the dental plans, the federal government would have had 6.97 million people with medical insurance under the law known as Obamacare, investigators for the House Oversight and Government Reform committee calculated, using data they obtained from the U.S. Centers for Medicare and Medicaid Services.

Federal officials said in September they had 7.3 million people enrolled in coverage through new government-run insurance exchanges. They didn't distinguish between medical and dental plans, breaking from previous practice without notice.
The specific charge levied by Darrell Issa, the head of the oversight committee, is that the Obama administration tweaked the statistics on purpose to hit an enrollment goal. "After touting 8 million initial sign-ups for medical plans, four months later they engaged in a concerted effort to obscure a heavy drop-out rate of perhaps a million or more enrollees by quietly adding in dental plan sign-ups to exchange numbers," he told Bloomberg.
To unpack that, it helps to understand that there are a few ways of thinking about the enrollment math. Are we talking about people who enrolled, or enrolled and paid up? And are we talking about health plans only, or health and dental? Issa argues that the Obama administration — to paper over the difference between people who enrolled and people who enrolled and paid, and to boost that latter measure up above 7 million — added dental plans into its figures this fall.
The Obama administration has responded that it "erroneously" counted dental plans in its figures.
But the optics are what matter here, and the problems with the numbers give Republicans an easy hook to keep on arguing that the law is rotten at its core and that Democrats are being dishonest about its impact.