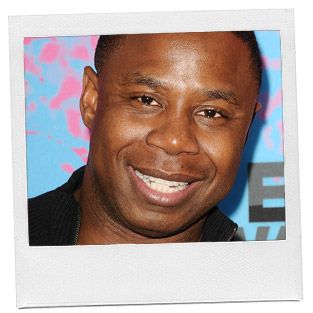 Photo: Jason LaVeris/Getty Images
Name: Doug E. Fresh
Age: "I am now 48, and I feel great."
Neighborhood: Harlem
Occupation: Rapper and producer ("World's Greatest Entertainer"); executive producer, the Soul Train Awards, which you can catch airing November 30 on BET and Centric.
Who's your favorite New Yorker, living or dead, real or fictional?
Charlie Rangel. He's the only congressman I know who walks the streets and shakes hands and takes pictures. He's like a modern-day Pied Piper, just without the music.
What's the best meal you've eaten in New York?
 Café Viva on Broadway. He makes the best vegetarian dishes and pizzas.
In one sentence, what do you actually do all day in your job?
Grind.
What was your first job in New York?
This job here that I'm doing. I've never had another job. I had to finish high school on the road because my career took off, and I couldn't even sign my contract because I was 17. My mother had to sign my contract.
What's the last thing you saw on Broadway?
Wicked. I took my little son, and he enjoyed it. I always thought the story of The Wizard of Oz was great. And now my son's actually in the school play where he's playing the Cowardly Lion, so he's full-blown now.
Do you give money to panhandlers?
Depending on the situation and the circumstances, I do.
What's your drink?
I like drinks that are refreshing. I like ginger beer, sorrel, but lately — and I ain't even frontin' — the lemonade in my restaurant is so crazy, yo. You don't even understand. I like to put the Angostura bitters in it.
How often do you prepare your own meals?
Not that often. I have a chef from Panama who's been with me for more than 20 years. Occasionally I make something quick for my son, like an egg.
What's your favorite medication?
Exercise.
What is the best thing in or about your apartment?
My massage table. I really appreciate that massage table.
What's the craziest thing you've ever seen on the subway?
It's been a minute, but I think the craziest thing I've seen on the subway is when someone comes on and addresses the whole car, like "Hello, everybody!" and everybody would stand there and not want to interact with what the guy's saying. And then he'll start singing or start telling jokes or whatever, and I always thought it was a big thing for someone to do that. It takes a lot of heart to do that, to walk around on the subway asking people for money while they're ignoring you. I always thought that was interesting, that a person would feel like, I will put everything on the line and do it. I actually respect the person who can do that.
When was the last time you stayed out past 3 a.m.?
Every night. It don't stop. It must be the Trini side of me.
Which do you prefer, the old Times Square or the new Times Square?
I think I prefer the old Times Square. It was out of control. They had the karate flicks and the movies — you could see three karate movies for three dollars! Now it's nice; it's for the tourists. Back then it was serious, party all day long.
What do you think of Mayor de Blasio?
He seems to be holding it together. He had some very big shoes to fill. Bloomberg was definitely something unique, for sure. As much as people say things about Bloomberg, I think he did a great job at what he was doing. I don't agree with all of his decisions, but you're never going to please everybody all the time.
What do you hate most about living in New York?
It could be a little cleaner. They need to take some of the cleanliness of Toronto — Toronto has got to be the cleanest city I've ever been in. I think if New York were cleaner people would appreciate it much more.
If you could banish one person from New York forever, who would it be?
I don't know who I would do that to. Who I'd want to disappear probably is any kind of classists, racists, child molesters, or people who are creating so much crime and taking people's lives unnecessarily in New York. It's not an individual — it's a concept of just the way a person thinks, because New York is a beautiful place, and you should always feel safe when you walk around. 
When's the last time you drove a car?
Probably a couple weeks ago. I have a guy that drives for me, but I always get my driving in. You gotta keep that skill up. You never know!
Finish this sentence: The NYPD _____.
Has to learn how to deal with people better.
Times, Post, or Daily News?
I think that the Times is pretty good.
Where do you go to be alone?
That's a good question. I like to spend time in the car. Or running. I spend time alone in a lot of hotels because I'm constantly traveling. You can really cool out when you've got a nice room.
What makes someone a New Yorker?
Understanding that there's nothing like New York in the world. You can't come here judging it as much as you're trying to understand it. And what makes a New Yorker is being able to deal with direct, raw conversation, because that's what New York is. And what makes a New Yorker is being able to rise to any occasion, because New York teaches you how to do that. You can drop a person from New York in any part of the world, and for the most part they will survive.