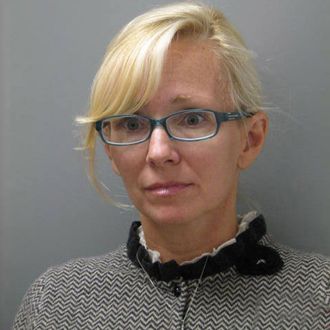 Molly Shattuck, a former Baltimore Ravens cheerleader who was once the oldest cheerleader in the NFL, was indicted and arrested this week on charges that she raped a 15-year-old boy she met on Instagram. Uh, gross?
According to police, 47-year-old Shattuck, who's the estranged wife of a Maryland energy executive, allegedly sent the boy her phone number after spotting him on Instagram. The indictment alleges that she and the boy had sexual contact a "half dozen times" in July, usually after Shattuck would pick him up from summer school.
Over Labor Day weekend, Shattuck was watching some of her kids and their friends at her beach house in Bethany Beach, Delaware when she invited the boy to stay over. According to WBAL:
 "Sometime around 2 a.m. Sunday morning, they drove to a liquor store and (Molly) Shattuck purchased a 12-pack of Miller Lite and a 12-pack of Bud Light for them."

The younger kids were left home alone. Once back at the house, Molly Shattuck allegedly performed oral sex on the boy, first outside the home while walking the dog and again in her bedroom.
Shattuck is being charged on nine counts: two counts of third-degree rape, four counts of unlawful sexual contact, and three counts of distributing alcohol to a minor.