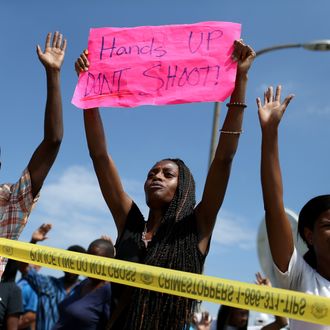 Photo: Joe Raedle/2014 Getty Images
The shooting of Michael Brown brought to light misconduct allegations against Ferguson police that go well beyond the incident itself, from multiple officers delivering racist rants to claims that they pistol-whipped children. Now there are disturbing claims about another city agency. A woman identified only as J.W. has filed a federal lawsuit against the city and corrections officer Jaris Hayden, 29, who she says raped her in jail last year when she was pregnant.
J.W. was stopped on October 9, 2013, because her license plates were expired. She initially gave the cop a fake name and was given two tickets. J.W. says that as she was being booked by Hayden, he told her, "You smell good," and said, "This will teach you a lesson."
According to the lawsuit, the harassment continued after J.W.'s boyfriend posted bond, and she told Hayden she was pregnant. He allegedly remarked, "You're the type of girl that can get me in trouble," as he removed her from the cell. J.W. says that as she was signing release papers, Hayden told her she had traffic warrants in other municipalities. While crying, she said, "I will do anything to go home," which the suit says was not meant to "deliver the message that she would have sex with Hayden in exchange for release."
Hayden replied, "Follow me," and led her to the boiler room. J.W. claims that Hayden then unbuttoned his pants and said, "You gonna suck my dick." Then he bent her over and had sex with her. The suit says that J.W. did not resist either demand "because she was afraid." She was then released out a side door and told to "Run and stay close to the building" to avoid being captured on security cameras.
J.W. went to the emergency room after the incident. She managed to capture pubic hair to use as evidence, and the suit says DNA analysis confirmed it is from Hayden.
Hayden was arrested last week and released on $10,000 bond. He is facing four felony charges, including corruption and sexual contact with a prisoner.
In a statement announcing Hayden's firing, the city of Ferguson said it took immediate action and has "cooperated with federal authorities." However, the suit alleges that the incident is part of a deeper problem in Ferguson. "The conduct of City of Ferguson law enforcement in engaging in repeated acts of violence and constitutional violations against the citizenry constitutes a pattern," it says. "The City has taken inadequate steps or no steps at all to control the violent acts of its law enforcement personnel."