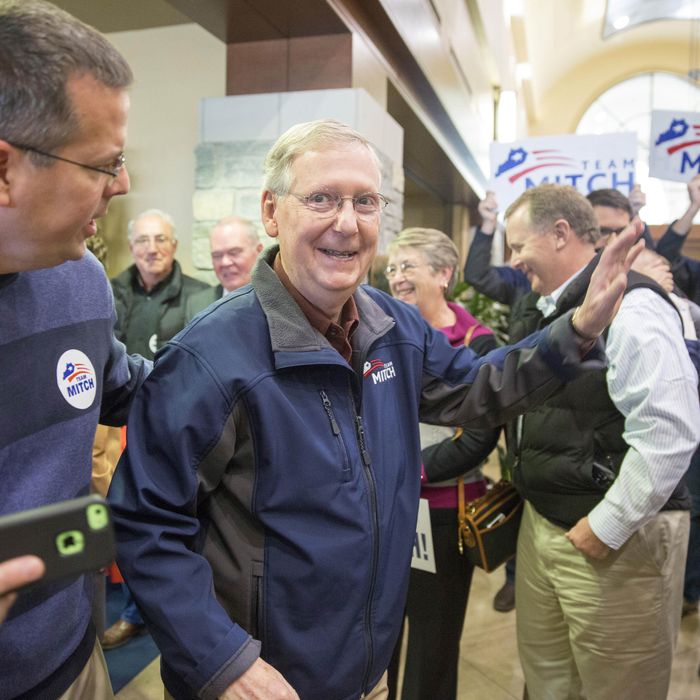 Photo: Aaron P. Bernstein/Getty Images
Welcome to Daily Intelliencer's coverage of the 2014 elections. Jonathan Chait, Marin Cogan, Margaret Hartmann, and Annie Lowrey will be bringing you all the latest election results, and we're determined to stay up until the bitter end (unless control of the Senate is decided in a December runoff). Whether you're one of the dozens of people who have been following the races for months, or just remembered there's an election tonight, please join us for the thrilling conclusion of the 2014 midterms.
2:29 a.m.: Aside from Republicans, it was a good night for advocates of marijuana legalization. Oregon became the third state to legalize recreational marijuana, following Washington state and Colorado. The state already has a medical marijuana program, and as of July 2015 adults over 21 will be allowed to possess and sell pot.
Voters in Washington, D.C., made it legal to possess and grow marijuana for recreation purposes, but residents can't sell it. D.C. lawmakers say they will attempt to establish a system to sell and tax the drug next year, but Congress could still step in an block legalization entirely.
Early returns suggest Alaska may be on its way to legalizing recreational marijuana as well.
The effort to legalize medical marijuana failed in Florida. The measure was approved by more than 50 percent of voters, but it needed 60 percent to pass. —Margaret Hartmann
2:04 a.m.: Though he's one of the most unpopular governors in the country, Republican Paul LePage managed to win reelection in Maine. As in 2010, third-party candidates pulled votes from LePage's Democratic opponent. It's going to be hard for LePage to top the various inappropriate remarks he made in his first term — which referenced Nazis, suicide, and a crude sex act — but we believe in him. —Margaret Hartmann
1:57 a.m: Liberal Massachusetts continued its tradition of electing Republican governors, selecting former health-care CEO Charlie Baker to replace outgoing governor Deval Patrick.
Martha Coakley, the state's Democratic attorney general, had an early lead in the polls, but Baker pulled ahead in recent weeks, attracting independents and even some Republicans. It's similar to what happened to Coakley in 2010, when she lost the race to fill the late Ted Kennedy's Senate seat to Scott Brown.
Coakley wasn't ready to give up, even after multiple networks called the race and Baker made a victory speech. While she phoned Baker, she said she would not concede until Wednesday morning at the earliest. —Margaret Hartmann
1:41 p.m.: Voters in Providence, Rhode Island, were not willing to give Buddy Cianci a third crack at being mayor. Cianci was forced out of office in 1984 when he pleaded no contest to assaulting a man he thought was his estranged wife's lover with a fireplace log and a lit cigarette. He was reelected, then in 2002 he was convicted of racketeering and sent to prison for five years.
Instead, the city has decided to go with Democrat Jorge Elorza, the child of Guatemalan immigrants who worked his way out of poverty to attend Harvard Law School and become a housing court judge. —Margaret Hartmann
12:15 p.m.: House Speaker John Boehner, who was previously the Republican congressional leader we'd most like grab a beer with, needs to lighten up. Here's the first line of his statement on the GOP's huge win tonight:
We are humbled by the responsibility the American people have placed with us, but this is not a time for celebration.  It's time for government to start getting results and implementing solutions to the challenges facing our country, starting with our still-struggling economy.
11:58 p.m.: It's unclear if Anthony Weiner is referring to the GOP takeover or seeing the governor who disparaged his mayoral campaign reelected, but either way he's not happy. —Margaret Hartmann
11:50 p.m.: Here's the GOP's assessment of what happened tonight:
Or to make the point more idiotically:
—Margaret Hartmann
11:42 p.m.: The GOP has taken control of the Senate, and it happened much more quickly than many predicted. Though all the results have yet to come in (and some runoff elections won't take place for weeks), the Republicans have picked up Senate seats in Arkansas, Colorado, Iowa, Montana, South Dakota, and West Virginia. The additional six Senate votes give Republicans control of both chambers of Congress. —Margaret Hartmann
11:39 p.m.: ABC News is projecting that Joni Ernst, Republican and noted hog castrator, is our next senator from Iowa.
11:32 p.m.: The Associated Press has called the North Carolina Senate race for Republican Thom Tillis, which would give the Senate to the GOP.
11:18 p.m.: Multiple networks are projecting that Pat Roberts will keep his Kansas Senate seat, though he responded to claims that he doesn't actually live there anymore by saying, "Every time I get an opponent — I mean, a chance — I come home to Kansas." He'll be sure to thank his constituents when he sees them again in 2020. —Margaret Hartmann
11:12 p.m.: In Staten Island, Representative Michael Grimm has won reelection, though he's facing a 20-count federal indictment and was caught on-camera threatening a reporter. To put it another way:
—Margaret Hartmann
11:03 p.m.: Democrat Sean Eldridge, husband of Facebook co-founder Chris Hughes, has failed in his attempt to unseat Republican Chris Gibson in New York's 19th Congressional District.
In a statement, Eldridge said he's "proud of the issues we focused on in this race," adding, "I congratulate Congressman Gibson on his victory and wish him and his family well.  I hope that he and our elected officials from both sides of the aisle will rise above partisan gridlock and get to work on the urgent issues facing our region and our nation." —Margaret Hartmann
10:58 p.m.: George P. Bush was elected Texas land commissioner, ensuring that complaints about a potential Bush dynasty continue for years to come.
His dad was pretty excited:
Jeb Bush also congratulated Florida Governor Rick Scott. No word on how he feels about 2016 rival Scott Walker's big win in Wisconsin. —Margaret Hartmann
10:50 p.m.: Scott Brown may not be headed back to the world of Fox News punditry after all. Multiple networks had projected that New Hampshire senator Jeanne Shaheen would keep her seat, but now it appears the race is too close to call. —Margaret Hartmann
10:46 p.m.: It's not all losses for progressive politics tonight: Five states are voting on initiatives to raise the minimum wage, and four of them are red.

The states are Alaska, Arkansas, Nebraska, Illinois, and South Dakota. All of the measures seem likely to pass, though Illinois's would be non-binding. One way or another, it means hundreds of thousands more workers with higher earnings, even though a federal minimum-wage increase remains highly unlikely in the next Congress. —Annie Lowrey
10:33 p.m.: Here's yet another reason for the GOP to celebrate: Multiple networks are projecting that Wisconsin governor Scott Walker has been reelected. This is the third time Walker has been elected governor in just four years, and the race was seen as a referendum on both him and the conservative policies he's implemented. A loss would have frightened Republican governors across the country and taken Scott out of the running for the 2016 presidential election. —Margaret Hartmann
10:28 p.m.: I've written that the Senate race doesn't matter much for legislation. But the governor's races matter, a lot. The most immediate issue is health care, where many Republicans continue their boycott of Obamacare, thus imposing massive financial and medical hardship on their poorest, sickest citizens. In Florida, Rick Scott has been reelected, which means more than 700,000 Floridians will continue to be denied access to insurance. —Jonathan Chait
10:25 p.m.:
10:21 p.m.: Fox News angered Colorado Democrats by calling the Senate race for Cory Gardner, but now the AP has done the same:
10:14 p.m.: It looks like the GOP has gained a fourth Senate seat. Multiple networks are projecting that Republican Representative Steve Daines has won the seat vacated last year by Democratic Senator Max Baucus (who later became the U.S. ambassador to China). —Margaret Hartmann
10:09 p.m.: Democratic senator Mary Landrieu and Republican challenger Bill Cassidy are headed to a runoff, since neither won more than 50 percent of the vote, as required by Louisiana law.
That could mean we won't know which party controls the Senate until December 6, depending how the rest of the night goes. —Margaret Hartmann
10:04 p.m.: Fox News has called the Colorado Senate race for Republican Cory Gardner, sealing off one of the last possible routes to Democrats retaining control.
Don't fight over election results with a guy named Nate. —Jonathan Chait.
10:00 p.m.: Tonight, a number of states and cities have voted on initiatives to loosen restrictions on the use of marijuana. Such initiatives remain highly divisive — and have not proven uniformly successful, despite how quickly voters across the country have changed their minds about the drug. Nevertheless, a few of tonight's contests look likely to make it easier to have or smoke pot:

State: Oregon
Up for Election: A ballot measure that would set up a regulated cannabis market, similar to those in Colorado and Washington State. Adults would be able to have up to eight ounces of marijuana at home.
Prospects?: Likely to pass. Polls generally show voters in favor.

State: Alaska
Up for Election: A ballot measure that would set up a regulated cannabis market, similar to those in Colorado and Washington State.
Prospects?: A toss-up! Two polls released last month showed 53 percent opposed and 57 in favor.

State: Not a state — the District of Columbia
Up for Election: A ballot measure would allow individuals to possess a small amount of marijuana and to grow up to six plants at home.
Prospects?: Likely to pass, though it would be subject to a congressional review period.

State: Florida
Up for Election: A constitutional amendment that would allow for medical marijuana use.
Prospects?: Unlikely to pass; the initiative has gotten less and less popular.
—Annie Lowrey
9:49 p.m.: Clay Aiken failed in his attempt to unseat Representative Renee Ellmers, which would have made him the first openly gay representative elected in the South. Claymates have failed the nation once again. —Margaret Hartmann
9:46 p.m.:
9:40 p.m.: Reporters keep saying that Mitch McConnell is within reach of achieving his "dream" of becoming Senate majority leader. I find that dream kind of sad. It's not like dreaming that you'll become president, or even that you'll become majority leader and pass some major historic piece of legislation. It's not even like dreaming that he'll suddenly have the chance to block President Obama's agenda. That already happened when Republicans won the House four years ago.
Basically McConnell's dream is that, with control of the Senate also in Republican hands, he can move the veto point from the Senate to the executive branch, so that differences between the house and the president are resolved in a way that can be more easily spun by his party. He's dreaming of a slightly different kind of gridlock. —Jonathan Chait
9:38 p.m.: Ron Paul lacks a clear understanding of which branch of government has the commander-in-chief of the military. —Jonathan Chait
9:32 p.m.: Here are two completely un-shocking developments in the gubernatorial races:
The real question in Texas wasn't whether Wendy Davis would be governor, but whether she'd lose by a small enough margin to add fuel to the Democrats' hopes of turning the state blue. —Margaret Hartmann
9:22 p.m.: As expected, Republican Mike Rounds has won the race to replace Democratic South Dakota senator Tim Johnson, who is retiring.
Republicans have now picked up an additional three seats in the Senate. —Margaret Hartmann
9:12 p.m: If you didn't vote today, you just made yourself a powerful enemy. If Republicans win big tonight, brace yourself for an angry all-caps civics lesson. —Margaret Hartmann
9:00 p.m.: ABC News is projecting that New Hampshire Democrat Jeanne Shaheen will keep her Senate seat. Presumably Scott Brown, her Republican challenger, is not comforted by the fact that he's making history as the first candidate to lose two U.S. Senate races to two women. At least now the former Massachusetts senator can focus on "making a difference" by shouting on Fox News full-time. —Margaret Hartmann
8:58 p.m.: CNN is calling the Arkansas Senate race for Republican Tom Cotton over Democratic incumbent Senator Mark Pryor. It's really early in the night, and the GOP only has four more seats to pick up to take the majority.
I profiled Cotton last year. He's basically a GOP dream candidate, on paper: young (37), a graduate of Harvard and Harvard Law School, and a veteran of the wars in Iraq and Afghanistan, Cotton served only one term in the House before ascending to higher office. He is a deeply conservative, deeply ambitious guy who became a viral sensation on conservative blogs when he called for the imprisonment of top Times editors who reported a secret CIA terrorist tracking program in 2006. He was an awkward presence of the campaign trail (see: this ad where he insists, unconvincingly, that he really likes puppies). I cannot imagine what Bill Clinton is going through right now. —Marin Cogan
8:42 p.m.: Tim Scott just made history in South Carolina, becoming the first black senator elected in the South since just after the Civil War. Scott is already a senator — he was appointed in late 2012 following the resignation of Senator Jim DeMint — and he'll be up for reelection to a full term in 2016.
Here are some other Scott facts that are simultaneously impressive and incredibly depressing: He is one of just two African-Americans currently serving in the Senate, and only the fifth African-American ever elected to the upper chamber. He's also the first black Republican senator since the 1970s. —Margaret Hartmann
8:33 p.m.: Tom Corbett, Pennsylvania's Republican governor, has been unseated by Democratic businessman Tom Wolf. This is Wolf's first run for public office, and he has held a double-digit lead over Corbett since the May primaries.
This breaks the state's 40-year pattern of electing governors to two four-year terms, and alternating which party controls the state government. —Margaret Hartmann
8:27 p.m.: The GOP has taken its first step toward wresting control of the Senate from the Democrats. West Virginia Representative Shelley Moore Capito beat Democrat Natalie Tennant, capturing a seat Republicans haven't held in seven decades. The GOP needs to gain six seats to take control of the Senate. —Margaret Hartmann
8:24 p.m.: While addressing the McConnell victory party, the senator's wife, Elaine Chao, said, "I love the man, but I don't want him home for lunch everyday." —Margaret Hartmann
8:19 p.m.:
8:13 p.m.: Alison Lundergan Grimes has reportedly conceded:
8:08 p.m.: The polls have closed in Kentucky, and Senator Mitch McConnell has defeated Democratic challenger Alison Lundergan Grimes. McConnell will remain Senate minority leader, and may be majority leader before the night is through. —Margaret Hartmann