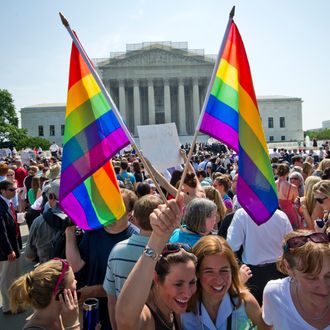 Photo: FP PHOTO / MLADEN ANTONOV
After a long, long string of losses, anti-gay-marriage advocates finally have a victory: The 6th Circuit Court of Appeals, featuring two Republican-appointed judges, overturned lower court decisions to uphold bans in Michigan, Ohio, Kentucky, and Tennessee, the first such decision since 2013. The 2-1 ruling means the 6th Circuit came to a different conclusion than the 4th, 7th, 9th, and 10th circuits, leaving the Supreme Court much more likely to chime in and decide things once and for all. 
"[T]he right to marry in general, and the right to gay marriage in particular, nowhere appear in the Constitution. That route for recognizing a fundamental right to same-sex marriage does not exist," Circuit Judge Jeffrey Sutton wrote in his 42-page decision, hinging on a 1972 Supreme Court ruling Supreme Court that "upheld the right of the people of a state to define marriage as they see it."
"When the courts do not let the people resolve new social issues like this one, they perpetuate the idea that the heroes in these change events are judges and lawyers," Sutton continued. "Better in this instance, we think, to allow change through the customary political processes, in which the people, gay and straight alike, become the heroes of their own stories by meeting each other not as adversaries in a court system but as fellow citizens seeking to resolve a new social issue in a fair-minded way."
In her dissent, the Democratic appointee Judge Martha Craig Daughtrey said, "If we in the judiciary do not have the authority, and indeed the responsibility, to right fundamental wrongs left excused by a majority of the electorate, our whole intricate, constitutional system of checks and balances, as well as the oaths to which we swore, prove to be nothing but shams."
Back in September, Supreme Court Justice Ruth Bader Ginsburg warned that if the 6th Circuit upheld the bans, "there will be some urgency" for the court to act. Stay tuned.