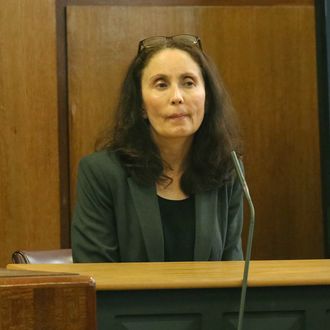 Photo: Siegel Jefferson/NY Daily News via Getty Images
Former Manhattan pharmaceutical exec and multimillionaire Gigi Jordan was convicted today of manslaughter in the first degree for giving her 8-year-old son Jude, who suffered from autism, a fatal overdose of prescription pills in 2010. Having dodged a second-degree murder charge, Jordan faces just 5 to 25 years in prison.
Her defense team managed to convince the jury with a strange tale, claiming Jordan had been trying "to save [Jude] from a life of sexual torture" at the hands of his birth father. Jordan said her husband at the time was plotting her murder, and she didn't want the boy to end up back with his abuser. Both men denied the allegations.
The prosecution argued that Jordan killed her son, who was nearly nonverbal, because of his severe autism, as in the disturbing case of Kelli Stapleton explored by Hanna Rosin last month in New York. (This week brought another similar tragedy.)
Jordan, however, denied the motive, both in court and in an extensive, controversial media tour while the jury was deliberating. "There are a lot of people who have snapped under the pressure of caring for a child with multiple disabilities," she told The Wall Street Journal. "That's not my case. Jude was not a burden to me." She also stopped by "Dr. Phil" and plugged her all-italicized website, The "Inadmissibale" Truth.

While the child was dying, "Jordan was on her laptop siphoning $125,000 from his trust fund," according to the prosecution. She was found, along with nearly 6,000 pills and a bottle of Grey Goose, near Jude's body in a $2,300-a-night room at the Peninsula Hotel on Fifth Avenue.
"Gigi Jordan showed no mercy to her son," said Manhattan D.A. Cyrus Vance Jr. in a statement after the verdict, "and should receive none at the time of her sentencing."