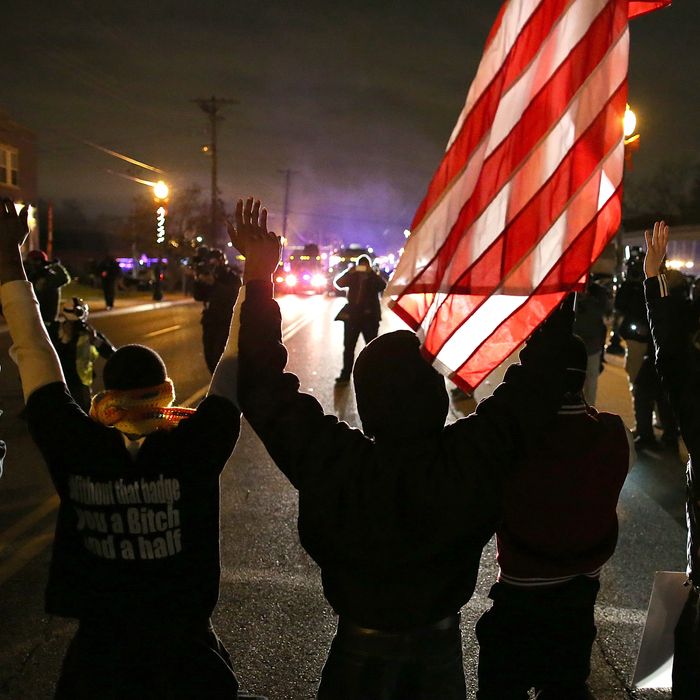 Photo: Justin Sullivan/2014 Getty Images
After three months of protests that sparked a national discussion about race and police violence, a grand jury decided that Ferguson, Missouri, police officer Darren Wilson will not face charges for fatally shooting 18-year-old Michael Brown on August 9. For weeks, both sides have been making preparations intended to prevent the situation from becoming violent, so it's unclear why prosecutors chose to announce the decision at 8 p.m. local time (9 p.m. ET), knowing that crowds would become more unruly after dark. Here's how the night unfolded.
3:00 a.m.: At a press conference early on Tuesday morning, St. Louis County Police Chief Jon Belmar said police made 29 arrests and one police officer was shot but not seriously hurt. At least a dozen buildings are burning, several stores were looted, and Belmar said he heard about 150 gunshots coming from the crowd. "I'm disappointed this evening," he said. "What I've seen tonight is probably worse than the worst night we had in August."
And with that we're signing off for the night.
1:16 p.m.: Back in Ferguson, several stores are burning, and CNN reporter Sara Sidner was hit on the head with a rock on live TV. She said she was okay and tried to keep reporting, but the network told her to stop and move to a safer location.
12:42 a.m.: Here are more updates on the protests happening outside of Ferguson.
12:19 a.m.: CNN says it has teams currently sifting through the nearly 5,000 pages of grand jury testimony, but there's already one standout quote. Wilson says that during the incident he thought Brown looked "like a demon, that's how angry he looked."
12:14 a.m.: New York's Jada Yuan is at the New York protest.
12:00 a.m.: The St. Louis airport is reportedly shutting down because of the protests.
11:54 p.m.: The St. Louis county prosecutor has released the full transcript of the grand jury proceedings in this 4,799-page PDF.
11:38 p.m.: Earlier in the night police insisted they were only using smoke on protesters, though TV anchors said on air that they were being tear-gassed. Now police admit they did use tear gas, but only after demonstrators failed to respond to the smoke.
11:27 p.m.: There were conflicting reports about the extent of Darren Wilson's injuries, and now the St. Louis County Prosecutor's Office has released photographs of the officer taken after the shooting. The images were presented to the grand jury as evidence.
11:16 p.m.: Here's how the protests are developing across the country:
11:07 p.m.: The Walgreens on North Florissant in Ferguson is burning. Two police cruisers are also on fire.
11:05 p.m.: Attorney General Eric Holder issued the following statement, in which he notes that "the Justice Department's investigation into the shooting of Michael Brown remains ongoing."
10:56 p.m.: A massive protest is under way in New York. There are also peaceful demonstrations taking place in Seattle, Chicago, Oakland, and Philadelphia.
10:45 p.m.: Smoke, pepper spray, and bean bags were used to disperse crowds near the Ferguson Police Department after some protesters broke the windows of a police car and threw objects at officers. There were also reports of gunshots and looting in Ferguson.
10:39 p.m.: Missouri Governor Jay Nixon issued a statement urging those "voicing their opinions" on the grand jury decision to "do so peacefully." "I also urge everyone to continue working to make positive changes that will yield long-term social, economic and spiritual benefits for all our communities," he said."
Nixon continued: "My commitment to the people of the region and state is this: I will do everything in my power to keep you safe and protect your right to speak. We must also make a commitment to one another: to trust more and fear less, to hold ourselves to a higher standard of personal responsibility and mutual respect, and to keep working to extend the promise of America to all our citizens."
10:33 p.m: The St. Louis Police Department has been tweeting frequently about the situation unfolding in Ferguson:
10:27 p.m.: Here's Obama's full statement:
10:18 p.m.: CNN and MSNBC are showing the president's remarks on one half of the screen, and Ferguson cops are using tear gas and riot gear on the other half.
10:09 p.m.: In a televised speech, President Obama said people on both sides of the issue should remain peaceful. "First and foremost we are a nation built on the rule of law, so we need to accept that this decison was the grand jury's to make," he said. "I join Michael's parents in asking anyone who protests that decision to do so peacefully."
10:04 p.m.: McCulloch refused to give any details on the jurors or how they voted. He would only say that nine were white and three were black. After hearing more than 70 hours of testimony from about 60 witnesses, they did not find probable cause for five possible charges, ranging from first-degree murder to involuntary manslaughter.
McCulloch said the grand jury's term was supposed to be over in September, and praised them for pouring their "hearts and souls" into the process. He also angered many people on Twitter by saying the jurors "gave up their lives" for the process.
9:56 p.m.: The crowd is growing in New York's Union Square:
9:53. p.m: President Obama will speak about the decision at 10 p.m.
9:47 p.m.: I talked to Rev. Cleo Willis, a longtime leader in the nonviolent movement, at 6:24 p.m., as he was putting on a trench coat with a cross on it to participate as a "Peace Keepers captain" for Rev. Al Sharpton's new Disciples Justice Action Network. The center of the action, he predicted, would be outside the courthouse in Clayton — though Willis reported that a man had spent 30 minutes "rapping" to the crowd by Mike Brown's memorial about how if there wasn't an indictment, tonight would be open season for shooting white people.
"Right now there is so much fear in the air. Our order is to stand between the guns and the demonstrators," he said, laughing, which was a little weird. "I'm laughing to keep from crying," he explained. "We need to stay nonviolent because it is important after the verdict that we are alive to move forward to the next stage because the whole world is looking. We can make some changes, but we can't do none of those things if we're dead." —Jada Yuan
9:43 p.m.: And here's Darren Wilson's statement:
9:39 p.m.: McCulloch is still going over the grand jury's findings, but Brown's family has already released a statement:
9:33 p.m.: At 6 p.m. I talked to Angela Whitman, 44, who was so exhausted and frustrated she cried through most of our conversation. After Mike Brown's death, she spent 40 days in front of the police station before moving on to voter registration, etc. She says that the influx of protesters has brought in both members of Anonymous wearing masks ("I like them") and people who Anonymous has been outing as undercover members of the Ku Klux Klan. "They chant all the time that we just some monkeys," she says. "And all the white people that come here to protest, they call them 'nigger lovers.' These are people who think I'm not supposed to be on the face of the Earth because I'm black, that I'm not supposed to be breathing. And I've got to love them in spite of what they think of me and my skin color because I go to church and God says I have to."
The volatile nature of the crowd and the influx of people she's not sure she can trust has made her scared. "I can get it from the front with the police and from the back with the Ku Klux Klan," she says. She's seen snipers on the roof of the Ferguson Police Department and Fire Department. "Are we so big of a threat to you that you need snipers on the roof of a building?" she says. Tonight she's going to a church, which is considered a safe haven. "We know what's going to happen. They're not going to indict him," says Whitman. "There's going to be some negative reaction. I just wish the negativity could just be verbal. Sing it to the top of your lungs, shout it to the top of your lungs. Enough killing is enough killing. To me, this isn't a black-and-white thing. It's a right-and-wrong thing." —Jada Yuan
9:27 p.m.: It's official: The grand jury decided not to indict Darren Wilson in the shooting of Michael Brown.
9:20 p.m.: McCulloch says the "the most significant challenge in this investigation has been the 24-hour news cycle" and rumors on social media.
The feeling is mutual, judging from the Twitter response:
9:18 p.m.: McCulloch said the jurors were selected in May, long before the shooting.
9:15 p.m.: St. Louis County prosecutor Robert McCulloch began the press conference by expressing sympathy for the Brown family and recapping the case.
9:11 p.m.: Benjamin Crump, an attorney representing Brown's family, told USA Today, "The jury was not inclined to indict on any charges."
The prosecutor's press conference has yet to begin. The reason for the delay is unknown.
9:07 p.m.: St. Louis County Chief of Police Jon Belmar released a statement saying the "safety of our citizens" is his department's primary concern.
9:03 p.m.: The press conference will be held in a 40-seat courtroom in the St. Louis Justice Center. There will be a 20-minute statement, then questions from the media.
9:00 p.m.: The first time we hear Darren Wilson's side of the story, he'll likely be talking with George Stephanopoulos of ABC News. Politico reports that the officer selected him after meeting with several top TV anchors. Though, as Politico notes, "Wilson could decide to forego interviews altogether and, if he is indicted, will not be able to give an interview."
8:52 p.m.: Since learning several hours ago that the decision would be announced tonight, hundreds of protesters have gathered in the streets of Ferguson. Many businesses in the city have been boarded up, and schools have been closed on Tuesday in anticipation of more demonstrations. Similar rallies will be taking place aross the country tonight.
All updates are by Margaret Hartmann unless otherwise noted.