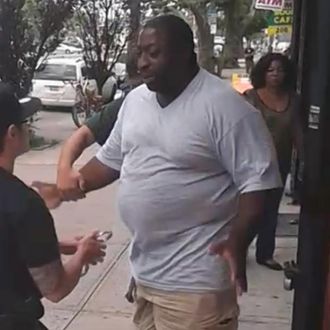 Just days after Darren Wilson's non-indictment, the Associated Press reports that a New York City grand jury is close to a decision on whether to bring charges against Daniel Pantaleo, the NYPD officer who appears to have put Eric Garner in an illegal chokehold just before he collapsed and died.
The city medical examiner's office ruled the incident a homicide back in August, blaming Garner's death primarily on "compression of his neck" and "compression of his chest and prone positioning during physical restraint by police." (The 350-pound Staten Islander's asthma, heart disease, and weight were listed as contributing factors.) Of course, the police union and Pantaleo's lawyer deny that Pantaleo used a chokehold and claim that Garner's poor health is what killed him.
The grand jury reportedly listened to Pantaleo testify last week, and he is believed to be the hearing's final witness. Staten Island District Attorney Daniel Donovan refused to comment on the case, but the AP says authorities expect him to announce the panel's findings by the end of 2014.
In an interview, Garner's mother, Gwen Carr, said she was "very anxious" about the length of the grand jury's deliberations, which have been going on since this September. "You'd have to be blind to not see what happened. I can't see why it should take so long to reach a decision," she said. "But there's nothing I can do about it."
As with Michael Brown, Garner's family and Al Sharpton have asked federal authorities to investigate the death. While they have not committed to doing so, President Obama's pick to replace Attorney General Eric Holder, Loretta Lynch, has promised to "keep an eye" on the situation. She'll have plenty of company.