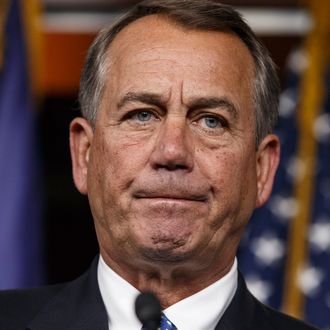 Photo: J. Scott Applewhite/AP
After threatening to do so for months, House Republicans have finally sued the Obama administration over the president's "king-like" changes to Obamacare, the New York Times reports. The lawsuit, filed on Friday against the secretaries of Health and Human Services and the Treasury Department, accuses Obama & Co. of illegally delaying the Affordable Care Act's employer mandate. It also challenges the $175 billion the law is set to pay to insurance companies over the next ten years in order to subsidize health care for poor people.
"Time after time, the president has chosen to ignore the will of the American people and rewrite federal law on his own without a vote of Congress. If this president can get away with making his own laws, future presidents will have the ability to as well. The House has an obligation to stand up for the Constitution, and that is exactly why we are pursuing this course of action," said House Speaker John Boehner in a statement.
This comes just hours after Obama announced that he was taking executive action to temporarily legalize the status of around 4.3 million undocumented immigrants rather than wait for Congress to get around to passing immigration reform. The GOP had suggested that it would include complaints about what the New York Post has dubbed "BAMNESTY" to the lawsuit, but it seems they're saving that for later.