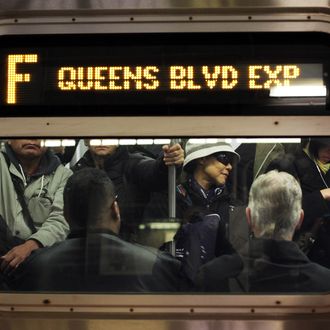 Photo: Allison Joyce/Getty Images
On Thursday, a ten-inch construction drill bit pierced the ceiling of a subway tunnel near 21st Street–Queensbridge station, almost impaling a crowded F train. Luckily, the conductor hit the brakes when he felt the drill touch the train, and no one was hurt. How did this close call occur? According to MTA spokesman Kevin Ortiz, someone screwed up.
"At this point in the investigation, the incident appears to have been caused by human error and doesn't involve equipment malfunction," Ortiz told the New York Daily News. That human is employed by Griffin Dewatering New England Inc., a contractor working on the East Side Access Project, which will eventually connect the Long Island Railroad to Grand Central. Ortiz also said that "officials have determined further drilling for the project isn't needed," which should be of some comfort to F train riders, who have been forced to put up with a lot lately.