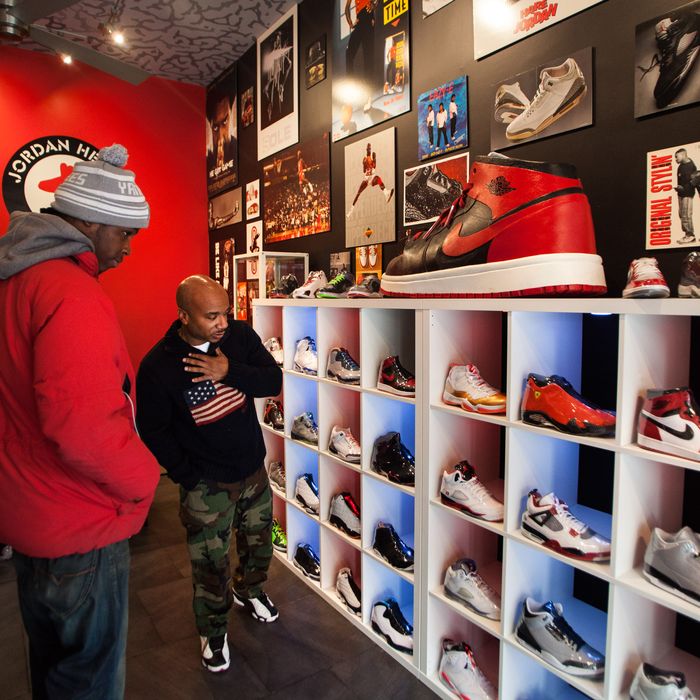 Owner Calvan Fowler (in flag sweater) at Jordan Heads Brooklyn
Photo: Konstantin Sergeyev
Calvan Fowler, the owner of the Air Jordan–centric consignment shop Jordan Heads Brooklyn, says his love of sneakers was first formed as a young child in Far Rockaway, where he watched his mother set off on her commute each day wearing "funky" sneakers she'd change out of at work." It would be reinforced a couple of years later when he saw a Nike Air Max commercial featuring the Beatles "Revolution," and he begged his mom for the shoes. (She couldn't afford them.) And it was solidified decades after that when, while working at the Puma store in Manhattan, he'd see kids wearing brand-new Air Jordan sneakers, and learned that Nike was regularly releasing retro versions of the kicks he coveted as a kid.
Fowler, who for years had worked as one of Spike Lee's assistants and at the time was also attending SVA and making films, immersed himself in the sneakerhead culture and with his cousin set out to make Jordan Heads, a documentary about Air Jordan collectors due for release next year. But while working on the film, he had an idea for a related venture.
"We went around the world and shot all these different people," he says. "We noticed they were totally enshrined by Michael Jordan memorabilia. I was like, Wow, there needs to be something in retail for people like them and like me."
He went on eBay to track down Jordan artifacts, brought over some from his own collection, and on September 23, Jordan Heads Brooklyn opened its doors in Bed-Stuy. The store is decorated with all things MJ: posters, old Wheaties boxes, Space Jam dolls, album covers with artists wearing Air Jordans on their feet, and so on. The ceiling is adorned with the Air Jordans' trademark elephant-print design.
A few odds and ends are for sale: soap with mini Air Jordans inside, vintage T-shirts from the 1991 Bulls-Lakers Finals, even a Dream Team–era windbreaker and pants (yours for only $500).
But the real draw is the few dozen pairs of hard-to-find Air Jordan sneakers for sale, most of them on consignment. Nike routinely releases new versions of old Jordan sneakers, but they sell out almost immediately, leaving most collectors to search for them on the secondary market. And that's where Fowler's shop, with its constantly changing stock, comes in.
Daily Intelligencer visited Jordan Heads Brooklyn last week and spoke to Fowler about his favorite Air Jordans. Click ahead for his picks.