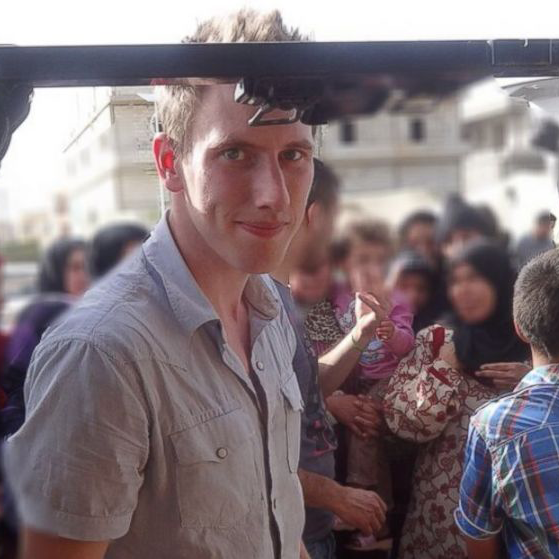 According to a video released on Sunday morning, the Islamic State militant group has beheaded 26-year-old American aid worker Peter Kassig. Kassig (who converted to Islam and changed his name to Abdul-Rahman while in captivity) was last seen in the October video showing the death of British aid worker Alan Henning.
Though the footage once again features the terrorist known as Jihadi John, it doesn't show him executing Kassig. From the New York Times:
Unlike the deaths of James Foley and others, the actual killing of the former Ranger, Peter Kassig, is not shown. And he is not made to deliver a final message. The camera pans across the boots of the hooded killer. Between his feet is a decapitated head, blood smearing the cheek.

"This is Peter Edward Kassig, a U.S. citizen of your country. Peter, who fought against the Muslims in Iraq while serving as a soldier under the American Army doesn't have much to say. His previous cellmates have already spoken on his behalf. But we say to you, Obama," says the British-accented fighter who has appeared in previous beheading videos and has been nicknamed Jihadi John by the British press. "You claim to have withdrawn from Iraq four years ago. We said to you then that you are liars."
The video also includes the mass beheading of Syrian soldiers as well as around 16 minutes describing the history of the Islamic State.
In a Facebook post, Kassig's parents, Ed and Paula, wrote, "We are aware of the news reports being circulated about our treasured son and are waiting for confirmation from the government as to the authenticity of these reports…The family respectfully asks that the news media avoid playing into the hostage takers' hands and refrain from publishing or broadcasting photographs or video distributed by the hostage takers. We prefer our son is written about and remembered for his important work and the love he shared with friends and family, not in the manner the hostage takers would use to manipulate Americans and further their cause."
Kassig, a former Army Ranger from Indiana, was the founder of Special Emergency Response and Assistance, a small, non-governmental organization that provided aid to Syrian refugees. He was abducted in the Syrian city Deir Ezzor in October 2013. In a letter that was smuggled out to his parents in June, he wrote, "I am obviously pretty scared to die but the hardest part is not knowing, wondering, hoping, and wondering if I should even hope at all. I am very sad that all this has happened and for what all of you back home are going through. If I do die, I figure that at least you and I can seek refuge and comfort in knowing that I went out as a result of trying to alleviate suffering and helping those in need."