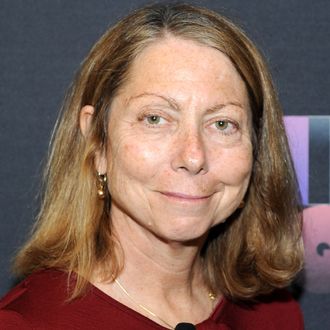 Photo: Brad Barket/Getty Images
About a month ago, deposed New York Times executive editor Jill Abramson revealed that she and entrepreneur Steve Brill are trying to launch a start-up that will pay journalists $100,000 advances for "big" stories. Shortly after, Abramson explained that the idea is to publish "one perfect, great whale of a tale per month," while Brill told Capital New York that he expected the subscription-only venture to operate as "an element of a certain established website." Now the Times reports that that website might end up being the Huffington Post.
"People briefed on the discussions" say that Abramson and Brill have been talking to Arianna Huffington and AOL chief Tim Armstrong about HuffPost "hosting" the new publication. According to the Times, "a decision on a deal is likely to be made soon." Brill, for his part, declined to confirm that he and Abramson had met with Huffington and Armstrong, though he did say that three (unnamed) companies had expressed "serious" interest in  somehow backing the project. Still, partnering with Huffington's eponymous site would be convenient for Abramson in at least one respect: She wouldn't have to get a new tattoo.