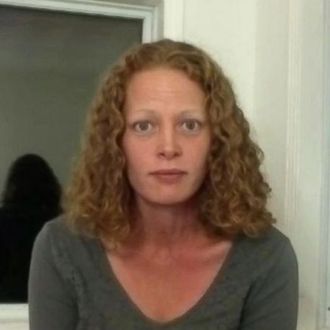 Kaci Hickox — the woman who took on Chris Christie and his Newark quarantine rules only to become known as the "Ebola nurse," despite not having any symptoms of Ebola — is getting the hell out of Maine. The Associated Press reports that Hickox's boyfriend, Ted Wilbur, has withdrawn from the nursing program at the University of Maine at Fort Kent, and the two plan to leave the remote town on Monday, when it will be 21 days since she had contact with Ebola patients in Sierra Leone.
Hickox and Wilbur's reasons for moving aren't totally clear, but it seems to have something to do with the way they were treated by the University of Maine and Fort Kent in general. Wilbur claims that UMFK forced him to stay off campus during Hickox's Ebola incubation period, though the school says he volunteered to stay home. "I wish that his university had showed more leadership in all of this. I think they only fueled the flames of confusion and misinformation. That's been really disappointing for us," said Hickox. A university spokesperson countered with this: "I know [Wilbur] has spoken publicly with concerns he had about returning. Our position is we worked with Ted and the broader campus community to address all the concerns and uncertainties we faced over the last couple of weeks."
Even though a judge granted Hickox's request to be allowed out of her home during her quarantine, she ended up agreeing to stay away from Fort Kent's town center after freaking people out with a defiant, highly publicized bike ride. "I understand that the community has been through a lot in the past week and that I do, you know, apologize to them for that. I will not go into town, into crowded public places. You know, I have had a few friends come visit me in my home and that's absolutely fantastic," she said at the time. Still, the Bangor Daily News reports that "several social media sites dedicated to keeping Hickox out of Fort Kent and Maine have gone online since Hickox returned to Fort Kent."
Hickox told the AP that she and Wilbur are now "exploring the idea of relocating and looking at a new college — and noted that it would probably be outside Maine." Where will the couple wind up? Probably not New Jersey, though her return to Christie territory might be fun to watch.