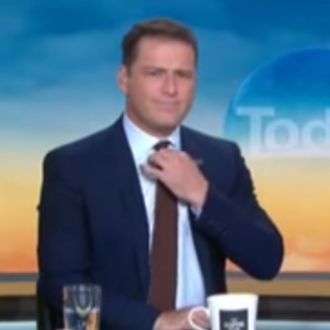 Karl Stefanovic is a beloved anchor on Australia's version of the Today show, which is also conveniently called the Today show. Over the weekend, Stefanovic made a startling confession: He's been wearing the same exact knock-off Burberry suit on-air every single day for a year, and — shockingly — nobody noticed.
Stefanovic says he pulled the stunt to make a statement about how women on TV are judged much more harshly than men, particularly for their appearances. "No one has noticed; no one gives a shit," he said in an interview with Fairfax Media."Women are judged much more harshly and keenly for what they do, what they say and what they wear."
And though he says he took a few breaks to dry-clean the suit and switched up his ties every day to make the whole prank slightly more subtle, we mostly feel bad for his co-anchor Lisa Wilkinson, who has to face both increased scrutiny of her appearance due to her gender and the fact that her co-anchor smelled like crap for an entire year.