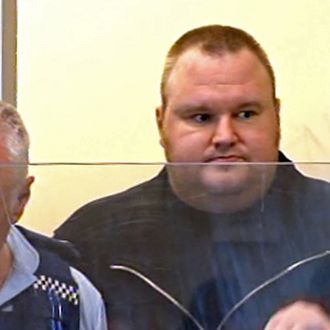 Photo: TV3/AFP/Getty Images
Megaupload founder Kim Dotcom is back in the news today, and he is now very, very broke. He was arrested in New Zealand in 2012 for internet piracy on his file-sharing site. Since then, he has reportedly spent upwards of $10 million in legal fees.
Most of Dotcom's assets are frozen, and what little he was allowed access to has apparently evaporated owing to living expenses, legal fees, and a campaign Dotcom attempted to finance by himself. He tweeted about his predicament overnight:
If convicted of charges including racketeering, conspiring to commit copyright infringement, and money laundering, Dotcom faces up to 20 years in prison.
"The [U.S. authorities] have certainly managed to drain my resources and dehydrate me, and without lawyers I am defenseless," Dotcom said in a video address to a London conference. "They used that opportunity to try and get my bail revoked and that's what I'm facing."
He faces another bail hearing Thursday, at which Dotcom says he has no choice but to represent himself: His legal team quit because he couldn't pay them. Dotcom alleges that he is not guilty, and the U.S. government is persecuting him for the actions of individual users on his sites — which could theoretically have been used to share anything. Because if there's one thing we know, it's that people use file-sharing sites to share original work.