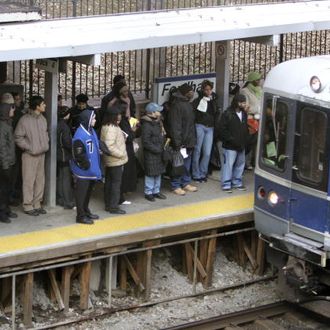 Photo: Don Emmert/AFP Images/Getty
After the Metro-North suddently lost power in Connecticut at around 5 a.m. on Sunday, crew members searching for the source of the problem discovered a man in flames on top of the train. Luckily, the workers were able to put out the fire, and the victim was rushed to the Westchester Medical Center's burn unit. 
A Metro-North spokesperson told the Greenwich Post that it was unclear how the man — an unnamed 21-year-old from Ohio — got onto the train, but the local police said they suspect "the pantograph, which is the device mounted on top of an electric train to collect power from the overhead wires, likely fell on him, causing him to be burned and/or electrocuted." There have been no updates about his condition. Riding on top of any train remains extremely dangerous.