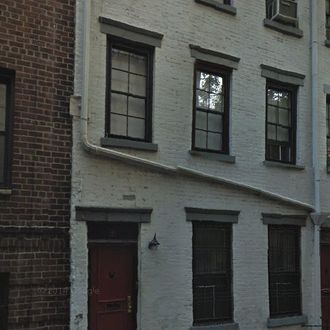 Do you think you have a good deal on your apartment? Well, whatever it is, it sucks compared to that of 47-year-old Jud Parker, whose 50-year lease requires him to pay just $10 a month for a 1,400-square-foot two-bedroom duplex in the West Village. (It also has a backyard.) New Yorkers currently seething with envy can take some comfort in the fact that this arrangement might come to an end soon.
The New York Post reports that Parker and "gal pal" Stefanie Tyler signed the lease for 14 Minetta Street in 2009, having agreed to the terms with their elderly landlord, Wilfred Schuman, who has since died. According to a lawsuit filed by the building's new owner, Pari Dulac, Schuman was hospitalized several times at the end of his life with alcoholism, dementia, and bleeding on his brain after an accident. (Court documents include a letter from Schuman's brother confirming the troubling health history, and neighbor David Burnett said that he had to open a bank account on Schuman's behalf in order to collect rent from tenants because the landlord had become "incapable of accepting" checks himself.) Dulac, who recently purchased 14 Minetta and two neighboring buildings for the (low-seeming?) price of $2.75 million, claims that Parker unfairly manipulated Schuman into the dream lease.
Parker, who until recently was subletting the apartment for considerably more than $10 a month, maintains that he didn't do anything wrong. Calling the duplex a "gift," he explained that he grew up across the street from Schuman. "I was a surrogate son. I took care of him my whole life. [Dulac] wants me out because she's greedy," he said.
Dulac, for her part, is fighting for the right to rent the apartment for $6,000 — which, the Post points out, is exactly how much Parker will pay for the place over the course of his 50-year lease, if he's allowed to keep it. Is your frustration over your inability to afford exorbitant downtown rents powerful enough to get you to side with a guy who maybe tricked a sick old man? No judgment.