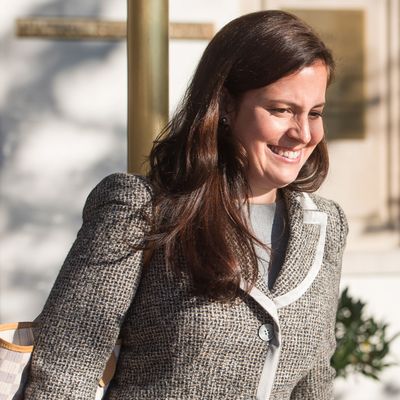 Photo: Bill Clark/CQ-Roll Call
In November, 30-year-old Elise Stefanik won a landslide victory over her Democratic opponent in an upstate New York House race, making her the youngest woman ever elected to Congress. Today, she officially became the 114th Congress's youngest member.
That's in a Congress that is more diverse than ever, too, with 104 women and 96 members who identify as being part of a racial minority. But don't feel too bad for the white guys. They still control 87 percent of Republican seats and 43 percent of Democratic seats, according to David Wasserman of the Cook Political Report. That means they make up well more than half of Congress, though they are only 31 percent of the population. 
Stefanik might be a #millennial, but she's also an old political hand. She worked on domestic policy in the George W. Bush White House and did debate prep for the Romney-Ryan campaign. We spoke after her victory about bipartisanship, dairy farmers, softball, and women. A condensed and lightly edited version of the conversation follows.
After spending time in Washington, when did you decide to run for office?
I was very disappointed in the outcome of the 2012 elections, particularly in New York State, and particularly upstate. We needed to think outside the box about the types of candidates that were running. I think in our age group, for millennials, people were looking for new types of candidates who would think outside the box, and who would work across the aisle on a bipartisan basis. I don't look like a typical candidate, but I think I have a lot to add in terms of bringing my voice and helping to do that. 
To that end, the big knock on Congress right now is that it's structurally broken. The incentives just aren't there for parties to work together. What do you make of that argument?
I do think the polarization is a huge problem.
I think that people are doing the best that they can, and that they want to represent their district. For me, with a district like New York-21, I think I have an opportunity to show leadership that's reflective of the district. This was a seat that Republicans picked up in this election.   
So I've thought through relationships with other young members of the Democratic side of the aisle — like Seth Moulton [a 36-year-old freshman representative from Massachusetts]. 
You worked in a White House that faced an entirely Democratic Congress after 2006; now you'll be working in a Republican Congress facing a Democratic president. What did you learn on that side of the fence that might help you now?
I think it's paramount that the White House works with Congress, and that Congress has a seat at the table.
That's something I learned in the Bush White House, when I was there from 2006 until 2009, that there's reach-out and that Congress is hearing from the office of legislative affairs. The other unique aspect I learned about was the importance of transitioning. I was in chief of staff's office as we were learning about transitioning out. That was a priority.
What are you hoping ends up in a GOP budget, given that it seems likely one might pass in the coming two years? What do you hope they leave out?
In terms of the budget, I think the most important issue is having long-term economic certainty, not just for the country but for small businesses that need to plan. I think part of the problem is that we've had these short-term, stop-gap bills that don't address the long term. I think it's really important. I'm 30 years old. I'm the youngest person in the new Congress. I think the perspective that I bring to the table is from our generation, which will be inheriting the debt. 
In terms of where I break with the party — I strongly support equal pay for equal work for women, and talked about that a lot on the campaign trail. I also support the Violence Against Women Act, and want to be a strong voice for young women, even if that means breaking with the party. 
You're a young woman in a party that's had a lot of difficulty convincing young women they have the right policies for them. So what's the argument that you make to them?
President Obama's economic policies have hurt my demographic, of unmarried women, ages 18 to 30. That's in terms of the unemployment rate. It's in terms of the number of single mothers who are on food stamps because they can't find jobs. It's in terms of the number of women living in poverty. I want to empower young women to start businesses with limited government, and fundamental tax reform so that they have more take-home pay and afford goods with rising prices.
I'm also hoping to help the Republican Party reach out to women — in many of the crisis situations in Washington in the last few years, there were articles about how often it was women showing leadership and reaching across the aisle. So I want to join that strong caucus of women. 
In terms of women in Congress, it does seem like two steps forward, one step back. Here, 100 women get elected for the first time. The House Republicans elect five women to leadership, out of ten positions total. But then there are no women named as new committee chairs …
The Republican leadership is extremely supportive of the new women in 114th class. And the women across the aisle have been really welcoming! There really is a special bipartisan relationship that women in Congress have with one another, I think. Senator Gillibrand invited me to the infamous softball team, which I'm very excited to play on.