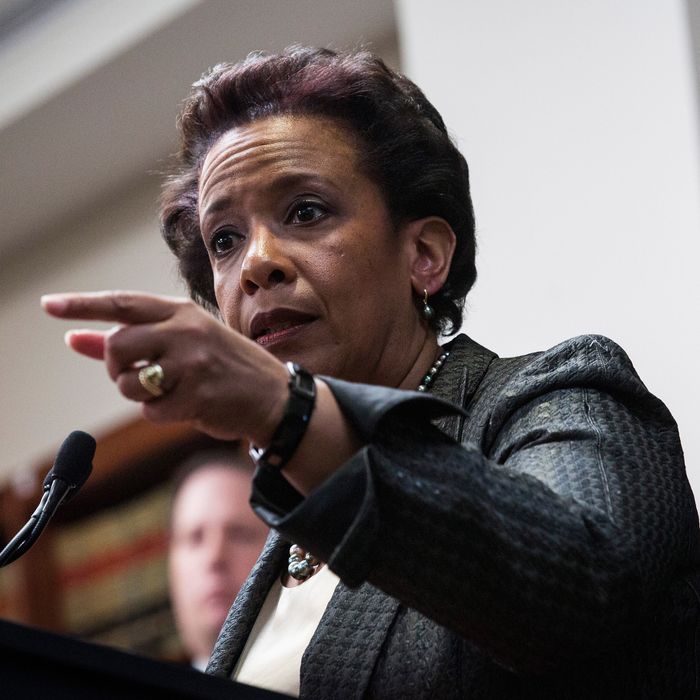 Photo: Andrew Burton/Getty Images
Updated 6:3oPM: President Obama will nominate Loretta Lynch to be the next attorney general, Reuters reports. The announcement is expected Saturday.
With Eric Holder on his way out, President Obama is eyeing Brooklyn's top federal prosecutor for the job of U.S. attorney general. While the Times describes Loretta Lynch as "a leading contender," CNN reports that it's pretty much a done deal with the announcement "expected in the coming days."
Lynch would be just the second woman to hold the job, and the first black woman.
The Times lays out some other pluses:
A Lynch nomination might carry substantial political benefits for a White House recalibrating its strategy after Republicans took over the Senate. Indeed, Ms. Lynch is a two-time United States attorney who has twice been confirmed by the Senate by acclamation – in 2000 and again in 2010. She has no personal ties to Mr. Obama or his policies, freeing her of the political baggage that has weighed down other candidates once thought to have an edge in the process.

The nomination would also allow the president, questioned in recent days about what he might do differently after the electoral thrashing by Republicans, to bring a fresh face into an administration many have criticized as too insular.
Other potential candidates, like solicitor general Donald Verrilli Jr. and Labor Secretary Thomas Perez, are too close to Obama and could bait the new Republican Senate to start a bitter nomination fight. Lynch, who was appointed by both Presidents Clinton and Obama, has never had a problem getting confirmed. (Surely someone will find something to get upset about this time around.)
Best known for prosecuting the NYPD officer who sodomized Abner Louima with a broken broomstick in 1997, Lynch is currently behind the prosecution of Staten Island Congressman Michael Grimm, who just won a sad reelection. She's Harvard educated and originally from North Carolina.
Even Senator Lindsey Graham, a member of the Judiciary Committee, said "she seems to be a solid choice" and is "qualified."