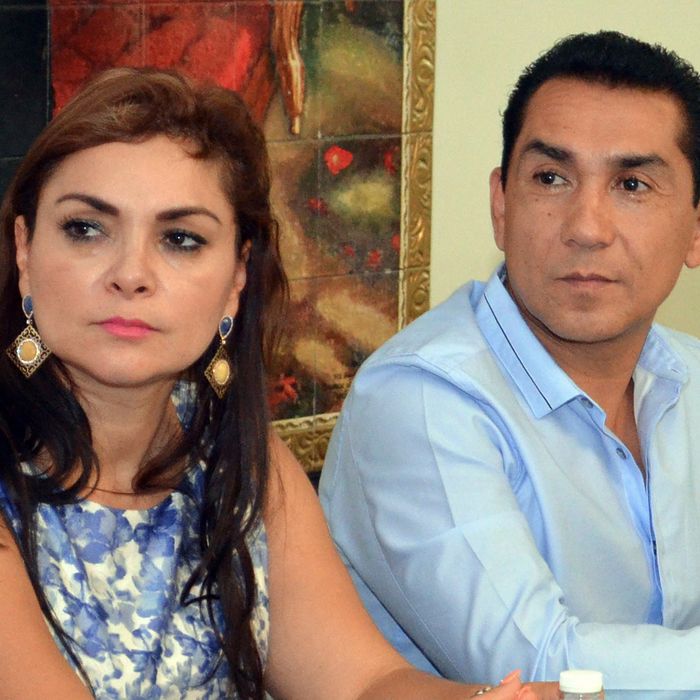 Photo: Alejandrino Gonzalez/AP/Corbis
The mayor of Iguala, considered a possible mastermind of the disappearance of 43 students more than a month ago, has been captured by authorities after weeks on the run. Jose Luis Abarca and his wife, Maria de los Angeles Pineda, reportedly did not resist arrest when confronted in their Mexico City rental home.
The missing students were aspiring teachers from a nearby rural area who traveled to Iguala, in southern Mexico, on September 26 for a protest. According to reports, Abarca found out that they were planning to disrupt one of his events, and ordered his men to, ahem, take care of the problem, at which point there was a shoot-out between students and the authorities.
This is when the story gets more insidious, and the corruption more evident: Survivors were subsequently handed over to a drug cartel, Guerreros Unidos. Many speculate that the cartel has close ties with Iguala's "imperial couple."
The students are presumed dead. In the course of searching for their bodies, investigators have found multiple mass graves, showing just how prevalent such killings are in Mexico. None of the graves, however, have contained the remains of the missing students from the college in rural Ayotzinapa.