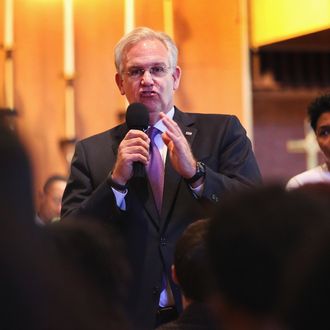 Photo: Scott Olson/Getty Images
With a grand jury decision on whether or (most likely) not Darren Wilson will face criminal charges for killing Mike Brown expected any day now, Missouri Governor Jay Nixon has declared a state of emergency in anticipation of "the possibility of expanded unrest." The declaration, issued on Monday afternoon, allows Nixon to preemptively activate the National Guard. Those troops have been ordered to assist a "unified command" comprising the Missouri State Highway Patrol, the St. Louis County Police Department, and the St. Louis Metropolitan Police Department as they respond to the demonstrations expected in Ferguson (and the St. Louis area in general) following the Wilson announcement.
"Public safety demands that we are fully prepared for any contingency, regardless of what the St. Louis County grand jury or the U.S. Department of Justice decides," said Nixon. "Our citizens have the right to peacefully assemble and protest and the State of Missouri is committed to protecting those rights … and our citizens and businesses must be protected from violence and damage." In theory, all this manpower will devote equal attention to both of those responsibilities.
In a press conference, St. Louis Mayor Francis Slay said that he didn't know exactly how many National Guard troops would be deployed to his city, nor did he know when they would arrive. However, he was sure to emphasize that the National Guard will act as backup for local law enforcement, as opposed to going to  "the front lines" to "[confront] protesters." Consider the tone set.