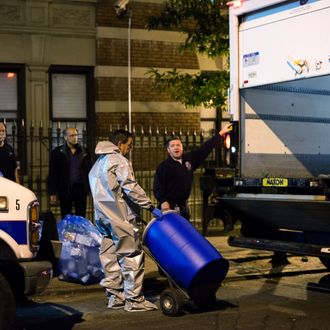 Photo: Bryan Thomas/2014 Getty Images
When Dr. Craig Spencer was hospitalized with Ebola last week, New York City contracted a biohazard company called Bio Recovery Corp. to clean up after him. "The guys going in are highly trained, highly skilled," said a Bio Recovery employee in one of several reports about the effort to sanitize Spencer's West Harlem apartment and the Williamsburg bowling alley he visited as he was becoming ill. It all sounds totally reassuring until you hear that Bio Recovery's chief safety officer is a former scam artist.
BuzzFeed News reports that Salvatore Pain, who served as Bio Recovery's spokesman during the cleanup, used to be Salvatore Pane. He told BuzzFeed he changed his name "because of an incident with a stalker," but we wouldn't be surprised if his decision had something to do with this:
In the late 2000s, Pane ran two distressed mortgage companies, American Modification Agency and Amerimod, and appeared widely on television as an expert on how to help people with troubled mortgages fix their problems. In 2010, Pane and his company "engaged in fraudulent, deceptive, and illegal business practices that violated New York's consumer protection and real property laws," according to a pleading filed by then-state attorney general Andrew Cuomo. Justice Emily Jane Goodman of State Supreme Court in Manhattan filed a permanent injunction against the companies.

On unrelated charges, Pane spent nine months, from June 2010 to March 2011, in jail for operating a vehicle without a license — first-degree aggravated unlicensed operation of a vehicle, according to prison records, which is a felony.
The story of how Pane became one of Bio Recovery's leaders is a little unclear. He told BuzzFeed that he and neighbor Vincent Santella were "partners" with the original owner, Ron Gospodarski, who died in 2013. Pane said Santella bought the company from Gospodarski's estate, though BuzzFeed notes that "public documents weren't immediately available to confirm the details of the transaction." At least one person who worked there under Gospodarski told the website that Pane and Santella "are not the company we were. I have no idea who they are."
Whoever Bio Recovery Corp. is, they've been receiving contracts from the city for six years. (They seem to mostly clean up crime scenes.) The company has at least three websites advertising its services under different names — All Island Bio-Recovery, Long Island Trauma, and the Crime Scene Cleanup Association — which Pane says is a "marketing tactic." The operation also falsely claimed to have an A-plus rating from the Better Business Bureau.
"I hope I've done what I've had to do to rebuild my life. I'm not a bad guy," Pane said. "Let's not hurt a good company. If it does I'll resign." It does look like Bio Recovery won't be getting any more work from the city. Mayor Bill de Blasio's office told BuzzFeed that they'd "stopped working with [Pane's] firm" after learning about his background on Monday, though "a City Hall official defended his work." Even a guy with a history of scamming people wouldn't want to be responsible for an Ebola outbreak in New York City, right?