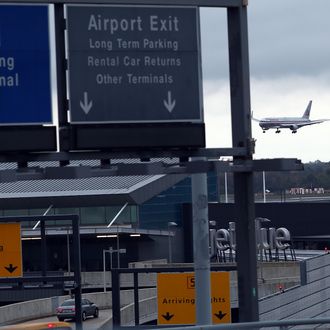 Photo: Spencer Platt/2014 Getty Images
On Saturday, a 26-year-old Boston man snuck into a woman's bathroom at Logan Airport, took off all his clothes, and climbed up into a crawl space. Unfortunately for him, he was a little too heavy for the hiding spot and came crashing through the ceiling. But that's not all!
After tumbling through the ceiling into the woman's bathroom, Cameron Shenk ran out into the airport naked and began assaulting a random elderly man. He reportedly bit the 84-year-old man's ear and attempted to choke him with his own cane. The man was taken to the hospital to have his ear treated.
Shenk has been charged with "attempted murder, mayhem, assault and battery on a person over 60, assault and battery on a police officer, lewd and lascivious conduct and malicious destruction to property," which is a lot of things!
Man, Red Sox fans are nuts.