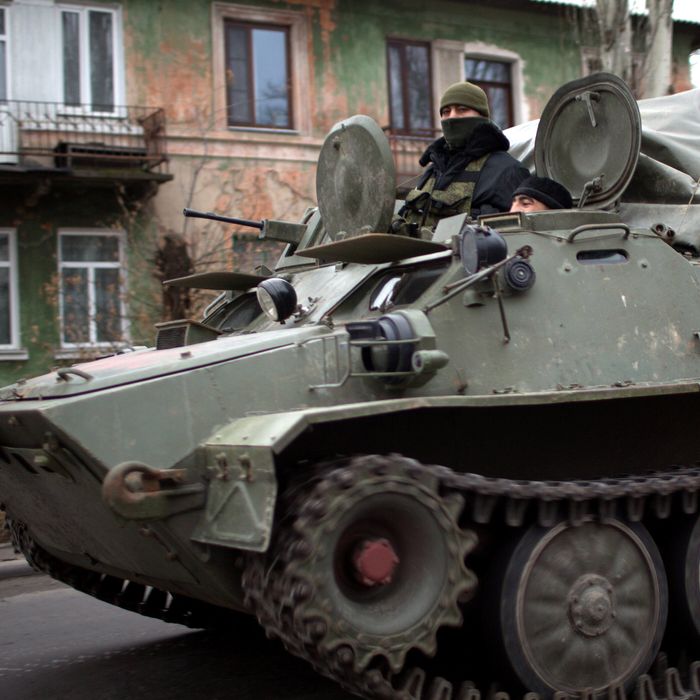 Photo: Menahem Kahana/AFP/Getty Images
Eyewitness accounts of Russian tanks and artillery in East Ukraine were confirmed by NATO Wednesday, with a top commander saying they saw "Russian tanks, Russian artillery, Russian air defence systems and Russian combat troops." Russia, of course, told NATO that it was hallucinating, and that there is certainly no evidence that any of those things are entering rebel-held areas.
The NATO commander, U.S. General Phillip Breedlove, also said that the border between Ukraine and Russia was now "completely porous," and that this was very worrying. "Forces, money, support, supplies, weapons are flowing back and forth across this border completely at will," he said. Estimates put the number of Russian troops along the border at up to 7,000.
Sightings of Russian forces have also been reported by the Organization for Security and Co-operation in Europe, which spotted 43 unmarked military vehicles heading from the east (that is, Russia) to Donetsk. The convoy also carried rocket launch systems, according to the OSCE. Good-bye, cease-fire; we hardly knew ye. 
But these ideas are "unfounded," according to Russian officials. "We've stressed many a time there are no real facts behind the acts of shaking the air by Brussels officials," said defense ministry spokesman Major-General Igor Konashenkov in all of his exasperated, difficult-to-translate phrasing. According to the country's official line, they have absolutely nothing to do with the armed conflict in Ukraine and haven't sent troops or supplies to back separatists, and if they deny it, it can't be true. (Never mind the fact that separatists have admitted to fighting alongside Russian volunteers, or the fact that Russian troops have died in Ukraine and their families are outraged.)
Western officials have said that there is no immediate plan to force more sanctions on Russia, which is already taking an economic hit. There also seems to be no plan to actually stop the influx of Russian troops. And that rapid-reaction force NATO tried to organize back in September? No sign of them, either.