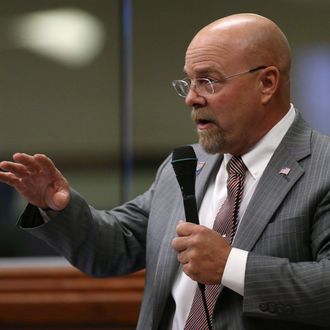 Photo: Cathleen Allison/AP/Corbis
Last week, the world outside of the Nevada political sphere was introduced to Ira Hansen, the bigoted, conspiracy-theory-believing Republican recently elected speaker of his state's Assembly. Once people had the opportunity to read the lowlights of Hansen's newspaper column, which included his takes on "the truth" about women in the military (they "do not belong" there), the gay community (home to a "grossly disproportionate" number of "pederasts"), and "simple-minded darkies" (that one speaks for itself), people began calling for him to give up his new leadership role, which he was supposed to begin in February. On Sunday morning, he obliged, saying that "character assassination" had forced him from the job.
Hansen claimed that the "powers that be" had orchestrated a "smear campaign" because he planned to block a large tax increase. "I hope that you all know that the Ira that you have known through these years and weeks is the real Ira and not what the media is painting me to be," he wrote in an email to his GOP colleagues in the legislature. Lest anyone forget, the real Ira is the guy who wrote, "The lack of gratitude and the deliberate ignoring of white history in relation to eliminating slavery is a disgrace that Negro leaders should own up to," under his own byline.