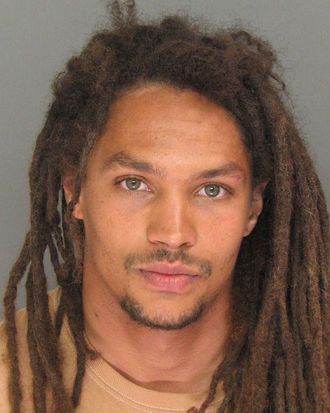 Photo: Santa Cruz Police Department
A young dude with piercing eyes and a rap sheet is on his way to becoming the new Jeremy Meeks, a.k.a. the Fine Felon, after getting a bit too passionate about his liberalism over the weekend. The target of his rage (and lewdness) was dressed as a Fox News reporter for Halloween, and this angelic-looking fellow apparently did not appreciate what may very well have been an ironic costume.
From Contra Costa Times:
At downtown Santa Cruz's annual parade on Friday night, police said, 29-year-old Sean Kory said "I hate Fox News" before grabbing the victim's microphone prop. The dreadlocked Kory then made an obscene gesture with it before attacking the victim with an aluminium tennis racket, police said.

The victim wasn't injured, but he called police, who ran down the suspect as he attempted to flee.
The obscene gesture? "During the confrontation, police said Kory grabbed the victim's microphone and placed it in front of his pants and proceeded to rub it on his crotch," CBS SF reports.
Easy, tiger.