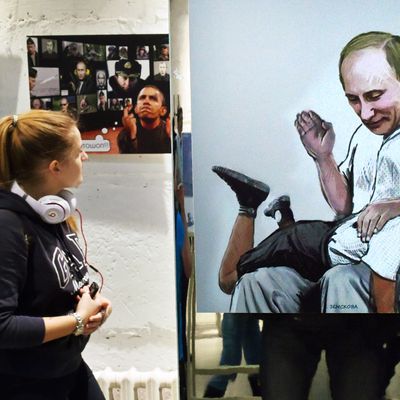 Photo: Kirill Kudryavtsev/AFP/Getty Images
Not even a month has passed since Vladimir Putin's devotees organized a Hercules-themed art show for the Russian president's birthday, but that doesn't mean it's too soon for another round of Vlad in Celebratory Caricature. An exhibit called "No Filters" opened Friday in Moscow, and despite the Halloween-y date, it was no trick.
Organized by the youth arm of Putin's party, United Russia, the exhibit shows the Russian leader facing off with adversaries in the European Union and the U.S. In the image above, for instance, the artist is trying to convey a more accurate illustration of anti-Russian sanctions. Check out some of the latest Putin masterpieces below.
This one depicts Putin's shadow as a superhero: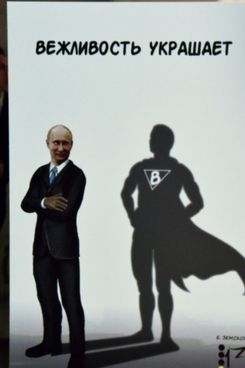 Listen up, post-Soviet states: "Beauty is unity in difference." And Putin will put you all back together again.
And so on — you get the gist: