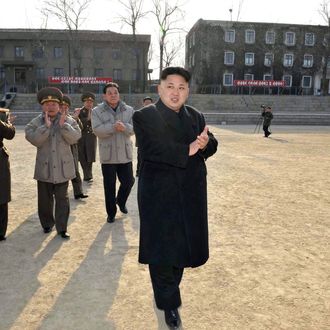 Surprise! The only two Americans imprisoned in North Korea, Kenneth Bae and Matthew Miller, are on their way home. The New York Times reports that the pair's release, announced by President Obama on Saturday, was secured by National Intelligence Director James Clapper during a rare visit to North Korea. (Sweden also helped with the negotiations, since the United States doesn't have any official diplomatic relationship with the government of Kim Jong-un.) Clapper will accompany Bae and Miller as they travel back to the U.S.
Forty-six-year-old Bae was almost two years into a 15-year hard-labor sentence for plotting a "religious coup d'état," according to North Korea. (Bae had been distributing evangelical materials and preaching against the North Korean government.) His case was the subject of a frustrating back-and-forth between the United States and North Korea (and, bizarrely, Dennis Rodman).
Miller, 25, was sentenced to six years of hard labor this September for "acts hostile to the DPRK while entering … under the guise of a tourist." Miller reportedly showed up in Pyongyang in April, tore up his tourist visa, and asked for asylum, though the details of what exactly happened with him remain unclear.
An Obama administration official told the Associated Press that "there was no quid pro quo involved in the Americans' release." Perhaps Kim's recent health troubles — gout? ankle issues? — softened him up a bit.