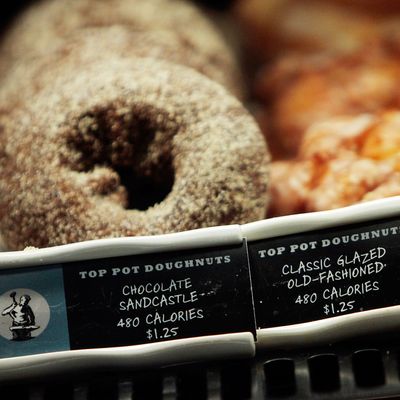 Photo: Chris Hondros/Getty Images
Former mayor Bloomberg can rest easy: The Food and Drug administration is picking up where he left off in the fight against calories (and obesity). Starting next year, the agency will follow in New York's footsteps by requiring chain restaurants to display calorie information for customers.
The wide-sweeping rules will cover restaurants and takeout joints, as well as movie theaters, vending machines, amusement parks, and, potentially, even prepared foods at supermarkets. To be affected, a chain must have more than 20 locations. And it's not just food — alcoholic beverages are also included under the new policy.
"This is one of the most important public health nutrition policies ever to be passed nationally," Center for Science in the Public Interest nutrition policy director Margo Wootan told the New York Times. "Right now, you are totally guessing at what you are getting. This rule will change that."
Advocates say that calorie labeling is particularly important in combatting the obesity epidemic because Americans consume a third of their daily caloric intake outside the home. (Really? Only a third?) Labeling food would allow them to make more educated choices about what they consume, experts say, instead of forcing them to guess a given item's nutritional value. The science, however, is still out on whether calorie labels have an effect. (Predictably, libertarians disagree with the encroaching nanny state.)
Nutritional menu labeling is part of the Affordable Care Act, but its implementation has been delayed for years owing to conflict. Even now, grocery stores, vending-machine operators, and pizza chains fought the FDA's attempts to mandate calorie counts. And, ultimately, pizza chains even got their wish: They will have to post calorie counts by the slice, not by the whole pie.