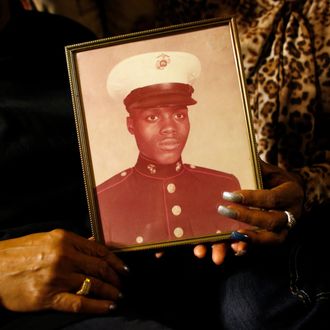 For the second time this year, New York City will pay more than $2 million to settle a lawsuit over the brutal death of an inmate at Rikers Island. Last winter, the Associated Press reported that 56-year-old former Marine Jerome Murdough had "baked to death" in a mental-health unit at the prison complex. Murdough, who was homeless and on anti-psychotic medication, had been jailed for trespassing after a cop found him trying to keep warm in the stairwell of a housing project. Broken heating equipment caused the temperature in his cell to exceed 100 degrees, and he was found dead from hyperthermia. Murdough's mother recently began the potentially long process of suing the city for $25 million. But on Friday, Comptroller Scott Stringer announced that she had accepted his offer of $2.25 million.
"This is a very awful thing that I am going through. I hope that nobody else will have to ever go through nothing like this," said Alma Murdough during a brief appearance with Stringer. Her lawyer, Derek Sells, had this to say: "[Jerome Murdough] was given the death penalty, simply for being arrested for trespassing. He never got an opportunity for his day in court, to challenge the charges that brought him to Rikers Island, all because of the failure of the guards who did not perform the duties which they were entrusted." Officials say Murdough had been left alone for at least four hours even though someone was supposed to check on him every 15 minutes. In April, the warden of the unit where Murdough died was transferred to a different position, as was Rikers's mechanics supervisor. The guard on duty that day was suspended for a month.
"It is my hope that this settlement provides some small measure of closure for the family of Mr. Murdough. The expedited resolution of this case is in the best interest of all parties," said Stringer. As you have perhaps noticed, Rikers has recently been the subject of a lot of terrible attention. Earlier this week, three of the Department of Correction's top officials resigned amid questions about their competence.