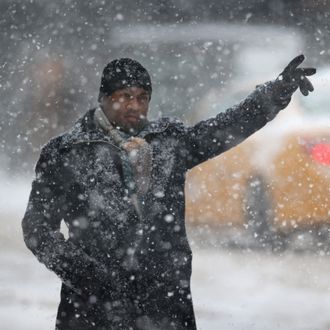 Photo: John Moore/2014 Getty Images
Every year you have a choice: stay in the city and spend Thanksgiving alone watching Lifetime movies and eating mashed potatoes you got from the bodega, or participate in a mass city exodus that rivals Escape From New York just to have a meal that doesn't come from Seamless. This year, another complicating factor has been tossed into the mix: shitty weather.
DNAinfo reports that New York could see up to three inches of snow accumulate between Wednesday night and Thursday morning. The National Weather Service says the rain should transition to snow around 11 p.m., just in time to ruin your plan to leave really late to avoid all the traffic. And you can probably forget trying to hop a bus or train early Thursday, since the snow will continue into the morning and we all know New Yorkers don't handle weather events very well.
Staying home with the cats and a bottle of red wine is starting to sound even more appealing than it usually does.
Update:
Now meteorologist Eric Holthaus is saying we could get THREE TO SIX inches. That's it, Thanksgiving's canceled.