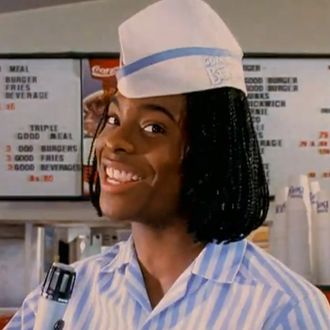 Photo: Paramount Pictures
In a post about "Alex From Target," the New York Times explores last week's maybe-a-hoax-maybe-not viral meme that you probably ignored if you're not a teen with a Tumblr. But in the process of describing the meme — which is literally just a picture of an attractive teen cashier at Target — the Times incorrectly referenced another famous cashier: Kel from Good Burger.
According to the correction, it appears the Times writer thought that Kel from Good Burger was an actual human person whom internet users found attractive and sent into the viral ether, similar to Alex From Target. This, of course, is not the case.
Correction: November 10, 2014 

An article on Thursday about the latest Internet sensation of "Alex from Target," a picture of a teenager bagging merchandise at the retailer that went viral online, described incorrectly a subsequent Internet posting of "Kel from Good Burger." It was a frame from the 1997 film "Good Burger" starring the actor Kel Mitchell; it was not a photograph of a teenager in a job.
Clearly this writer needs to consume more orange soda.