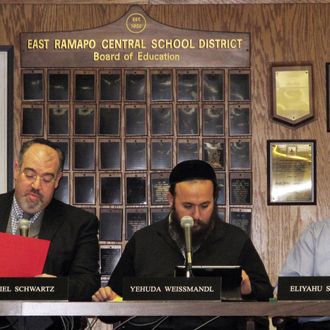 Photo: Jim Fitzgerald/AP/Corbis
A Rockland school district, whose school board was gradually taken over by members of its growing ultra-Orthodox Jewish community, narrowly escaped state takeover Monday, when a state-appointed monitor delivered a report that was much kinder than most media coverage of the case. But Hank Greenberg, the monitor, still recommended appointing a fiscal overseer, who would have the power to veto the school board's rulings.
East Ramapo's ultra-Orthodox community — which now controls the entirety of the school board — gutted the public-school system as its own children increased in number, eliminating guidance counselors, assistant principals, and social workers, and cutting school offerings and days. While Greenberg says he didn't find "base or venal" motives, he blasted the board's lack of transparency and fiscal irresponsibility. The report recommended that the state fill some of the funding gaps in the district — but only if a state overseer will be able to veto inappropriate allocations.