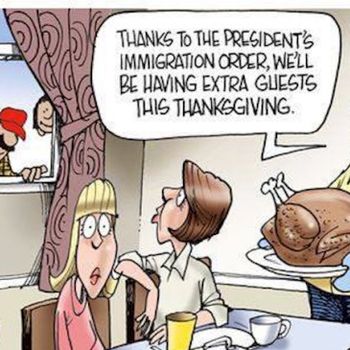 It's fitting that President Obama's decision to temporarily protect 5 million undocumented immigrants from deportation came just before Thanksgiving, which, among other things, celebrates the generosity this country's original inhabitants showed to the undocumented immigrants who landed on their shores in 1620. Unfortunately, the connection was lost on Gary Varvel, an Indianapolis Star cartoonist who doesn't seem to like the idea of sharing anything with people who do not look like him.
Varvel's latest cartoon, published on Friday, shows a mopey white dad holding a turkey and telling his scared-looking family, "Thanks to the President's immigration order, we'll be having extra guests this Thanksgiving," in reference to the decidedly darker-skinned people who can be seen climbing through the window. Hmmm! 
Unsurprisingly, a lot of people pointed out that the cartoon was pretty racist. Rather than immediately respond to the complaints, the Star tried to fix the situation by removing the male intruder's mustache:
When that somehow failed to calm people down, Star executive editor Jeff Taylor deleted the cartoon from the paper's website and issued an apology. "Gary did not intend to be racially insensitive in his attempt to express his strong views about President Barack Obama's decision to temporarily prevent the deportation of millions of immigrants living and working illegally in the United States," wrote Taylor. "But we erred in publishing it." And may your holiday be outrage-free.