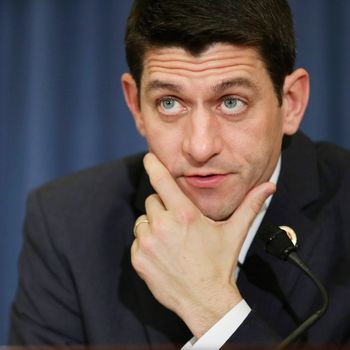 Think of the tax cuts, the beautiful, beautiful tax cuts!
Photo: Chip Somodevilla/Getty Images
The news of President Obama's plans to liberalize immigration enforcement has once again disappointed and saddened Paul Ryan. The incoming chairman of the House Ways & Means Committee provides two reasons for his feelings of hurt and betrayal. The first is that Obama threatened to act on his own just now and is giving Republicans in Congress no time to pass a bill:
We've gone to the president and said, 'Give us time to do immigration reform, to work on the issue this year. We want to get this done.' And this is the reaction he has to that? He had two years with a super-majority of his own party, and he didn't lift a finger. And now he won't give us a few weeks?
Right, except Obama actually started threatening to act on his own five months ago, and Ryan started trying, without success, to pass a bill through the House nearly two years ago. Other than that, your timeline is spot-on, Rep. Ryan.
Ryan's second complaint is more amusing. He tells the Washington Post that Obama is sadly harming his chances for Republican cooperation on tax reform. What makes this comical is that Ryan proceeds to explain what kind of tax reform he has in mind:
Earlier this year, [Former Ways & Means chairman Dave] Camp released a tax reform draft that showed the enormous difficulty of achieving Ryan's goal of getting tax rates down to 25 percent.

Ryan has said it would be easier to hit that target if the Congressional Budget Office used a process called "dynamic scoring" to measure broad effects on the economy when judging tax legislation. While CBO already uses dynamic scoring on a limited basis, Ryan said Wednesday he will have additional recommendations in the new Congress "for making sure we take these things into consideration."
The comedy in this requires a little translation. Camp, the outgoing chairman of the House committee that writes tax law, briefly shocked Washington by proposing a really sound tax reform that actually reformed the tax code — that is, it paid for its lower rates by cleaning out tax preferences in a bold and forthright way. This made Camp's plan absolute poison to corporate tax lobbyists and to his fellow Republicans, who abandoned him entirely.
Now Ryan takes over the committee, and he has different ideas. He has been talking far and wide about how he plans to use "dynamic scoring." That means the official scoring agencies in Congress would assume, as Ryan does, that lower tax rates dramatically increase economic growth, thus creating more revenue, a belief Ryan has advocated fervently his entire career, even in the face of massive evidence to the contrary. Dynamic scoring would enable him to reduce tax rates without matching all the lost revenue by cutting preferences in the tax code. In other words, it would be the sort of tax-cuts-for-the-rich agenda he has pursued unwaveringly ever since he was an Ayn Rand–reading, supply-side-economics-believing intern.
There's really no surprise here. That's who Paul Ryan is and always has been. The funny thing is that he is using this prospect as some kind of inducement to Obama. But of course Obama doesn't want to pass a tax reform that lowers revenue and makes the tax code less progressive. He wants taxes to raise more revenue and be more progressive. It's just bizarre for Ryan to lament that Obama's plans to make immigration enforcement more humane is costing him the chance to cut taxes for the rich.