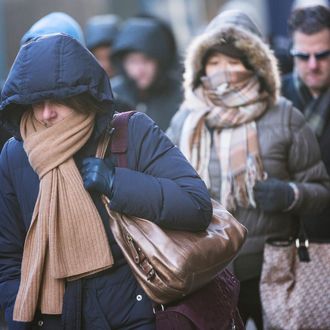 Photo: Andrew Burton/Getty Images
Remember the heady days of early this week when you slipped on a light jacket and strutted into the sunshine, a gentle breeze rustling your hair, the autumn clear and temperate? Cradle that beautiful memory like a trusty talisman, clutch it fiercely to your chest, because it's about to get fucking freezing.
Accuweather reports that large swaths of the U.S. will soon be plunged into arctic temperatures, freezing over Lake Michigan and forcing southerners to dig around in the garage for that pair of gloves they swear they had. The frigid air will reach the Eastern Seaboard some time next week, turning city streets into perilous wind tunnels and puddles of gunk into frozen puddles of gunk.
December-like cold will be felt farther along in the South and along the Atlantic Seaboard. The cold will rush into the South Central states by the middle of next week, but will not reach the Atlantic coast until later next week and into next weekend. RealFeel Temperatures in these eastern areas will dip into the 20s and 30s and will make it uncomfortable for many outdoor activities. In New York City, it is possible temperatures may not get out of the 30s on one or more days from late next week into next weekend.
And it's still only November.