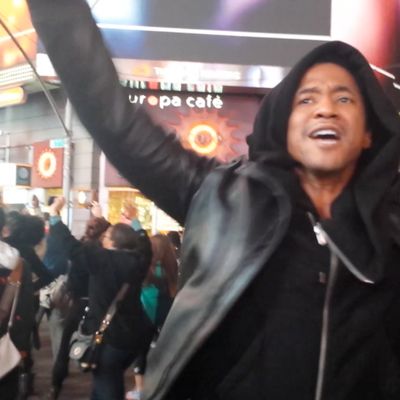 There was a familiar face among the crowd gathered in Times Square last night, holding "Racism Kills" and "Demilitarize the Police" signs, following the Missouri grand jury's decision not to indict Ferguson Police Officer Darren Wilson. His head covered with a black hoodie, the rapper Q-Tip shifted his weight from foot to foot, like a boxer just waiting for the bell to ring. "How are you feeling?" I asked. "How are you feeling?" he asked back. "Pretty shitty," I said. "Yeah, pretty much," he agreed.
"It's ridiculous that they basically had a closed investigation, no transparency," he said. "What happened to all of the things that the president talked about? What happened to all of the things that people came out in landmark numbers to vote against in major elections that didn't even transcribe to this? And it's like there's no value for black life at all." President Obama's speech after the Wilson announcement had been "lackluster," he added.
Where we go from here, Q-Tip said, he doesn't know. "People talk about black-on-black crime, which is kind of a misnomer, kind of a misconception," he said. "But, you know, we've been put in situations in our neighborhoods where we have poor education, a poor health-care system, children who have to watch their parents and their parents' parents just come out on the short end of the stick, so where do we have the self-value? So then when somebody goes and does a petty crime, like stealing something, the people who are supposed to police them don't have that value or that respect for them, either. I don't know what's going to happen. I'm at a loss for words."

Hey Hey, Ho Ho, these racist cops have got to go, chanted the crowd, louder and louder, stepping forward each time toward a line of cops on Seventh Avenue facing the plaza where they stood. Q-Tip found his words: "Pigs! Pigs!"
Then suddenly the march began to move swiftly, streaming downtown at what seemed like a rate of a block every couple of minutes. Q-Tip was with them the whole time, getting more agitated as he went. The hoodie came off, and he strode from edge to edge on the street, like there just wasn't enough room in this march. Every time the crowd got quiet, he'd cry out a "Hey Ho" or lead a "Hands Up, Don't Shoot" chant.
The march wended its way east on 23rd Street, then against traffic on Sixth Avenue to Soho, then down Canal and over the Brooklyn and then Manhattan Bridges, where it blocked traffic, while other marchers who'd headed north from Times Square were occupying the RFK Bridge. The last time I saw Q-Tip, a sanitation truck was pulling its horn in support, and the rapper was leading a "Whose Streets? Our Streets!" chant, walking fast enough to make it clear he's got anger and energy to spare.