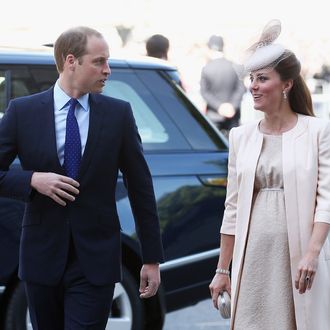 Photo: Dan Kitwood/Getty Images
It's the year 2014, yet Buckingham Palace has issued a proclamation to its colonies in the New World, which is awaiting a visit from Their Royal Highnesses the Duke and Duchess of Cambridge, Prince William and Kate Middleton.
"Journalists wishing to cover Royal engagements, whether in the United Kingdom or abroad, should comply with the dress code on formal occasions out of respect for the guests of The Queen, or any other member of the Royal Family," said an order aimed at reporters planning to write about Will and Kate's December trip. "Smart attire for men includes the wearing of a jacket and tie, and for women a trouser or skirt suit. Those wearing jeans or trainers will not be admitted and casually dressed members of the media will be turned away. This also applies to technicians."
First of all, what are "trainers" or, for that matter, "technicians"? And second, why should the United States' press corps — who barely bother to brush the muffin crumbs off their polo shirts before lobbing questions at the president of the United States — schlep extra pieces of clothing to work just so they can make small talk with a (perfectly nice-seeming) British air ambulance pilot-in-training and a former chain-store accessories buyer?