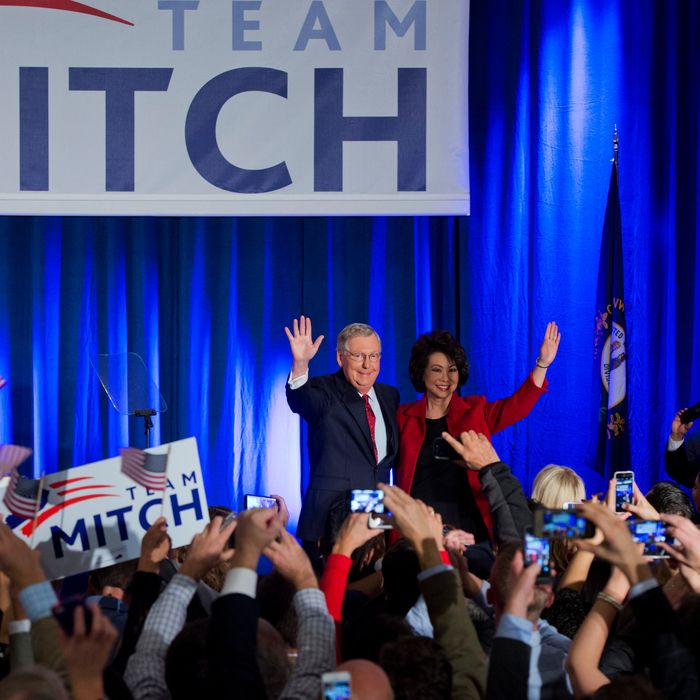 Photo: Tom Williams/CQ-Roll Call
The election's over, and now it's official: The Democrats got crushed. For the first time since the Party won the House and Senate in 2006, Congress is back in Republican hands. As of midnight, the GOP had a 52-seat majority. We won't know the exact number until Louisiana holds a runoff race in December, and in Alaska, the race was too close to call, but it looks like the GOP will win those races, too. Republicans also destroyed Democrats in governor's races: Rick Scott in Florida, Scott Walker in Wisconsin, and Rick Snyder in Michigan all won reelection, and Republicans even picked up liberal states like Maryland, Massachusetts, and Illinois.
The question for Republicans was always whether running on a simple anti-Obama platform would be enough of an argument to win. It was. In West Virginia, South Dakota, and Montana, Republicans Shelley Moore Capito, Mike Rounds, and Steve Daines easily won seats previously occupied by retiring Democrats. In Arkansas, the GOP's perfect-on-paper candidate Tom Cotton beat Democratic senator Mark Pryor. Former hog castrator Joni Ernst won in Iowa. In Colorado, Senator Mark Udall's attempt to portray his opponent, Cory Gardner, as an anti-abortion extremist was not enough to save his Senate seat.
Senator Kay Hagan lost her seat to Thom Tillis, the speaker of North Carolina's state house. An independent challenger, Greg Orman, was unable to unseat Republican Pat Roberts in Kansas. Michelle Nunn, the daughter of former Georgia senator Sam Nunn, lost to Republican David Perdue. Alison Lundergan Grimes, who was once considered to have one of the best chances of any Democrat at flipping a Republican seat this year, lost to badly to Mitch McConnell, who's likely to fulfill his lifelong dream of becoming Senate majority leader next year.
There were very few victories for Democrats. Jeanne Shaheen, who was facing a tough challenge from Scott Brown in New Hampshire, managed to keep her Senate seat. A Democrat defeated the Republican governor in Pennsylvania. 
But Democrats in seats once considered relatively safe faced unexpected challenges — like in Virginia, where Democratic Senator Mark Warner was narrowly ahead of his opponent, Ed Gillespie. It was a bad night for Clinton Democrats — and a bad night for Democrats named Clinton. The former president was friendly with a number of the candidates on the ballot in Arkansas, and the pair was reminded, two years before Hillary Clinton's likely presidential campaign, that their brand is no match for the political realignment taking place in the region. When Obama was elected in 2008, all but one member of the state's congressional delegation was a Democrat. After this election, there are no Democrats left.
A similar dynamic played out in the House (though, due to gerrymandering, that chamber was already expected to stay in Republican hands). Georgia congressman John Barrow, a long-suffering Blue Dog Democrat, was finally defeated. He was the last white Democrat from the Deep South in the House. Nick Rahall, the only Democratic House member from West Virginia, also lost.
In the final two weeks of the campaign, some Democrats started privately worrying that this year would end up being worse than 2010, when Republicans gained more seats in Congress than any party had won in a midterm year since the late 1930s. That might be true in the narrowest political sense — with Democrats holding the Senate majority, it's been easy for them to pin gridlock on the Republican obstructionists in the House. But that's also why, practically speaking, this won't change the already-dismal outlook for the president's agenda in the final two years of his term. Republicans already put his agenda on ice in 2010. As New York's Jonathan Chait notes, a GOP-controlled Senate will only really affect the president's ability to confirm judicial and executive-branch appointments. The real action on policy will come from the state level.
The other essential thing to keep in mind is that the Senate was not functional to begin with, in part because Harry Reid and Mitch McConnell really hate each other. Earlier this year, the Senate went three months without voting on one legislative amendment, and lawmakers from both parties told the Washington Post that their jobs felt so pointless that some of them were becoming depressed.
That Washington will spend another two years as a legislative dead zone is not a good sign for how Obama is going to be viewed after leaving office. At this point, the president's approval rating is around 42 percent, according to Gallup — that's 20 points lower than where Bill Clinton and Ronald Reagan were at this point in their presidencies, and only three points from where George Bush was in the final two years of his time in office.
Already the finger-pointing over why the president didn't play a larger role in the midterms has begun. The president had almost no presence on the campaign trail this year, in large part because Democrats didn't want him there. "The White House failed to define any agenda for voters in 2014," Stephanie Taylor and Adam Green, the co-founders of the Progressive Change Campaign Committee, said. "Elizabeth Warren was the most popular campaigner in 2014 for a reason: Her clear economic-populist message of reforming Wall Street, reducing student debt, and expanding Social Security benefits is popular everywhere. Red, purple, and blue states."
Republicans, meanwhile, were celebrating what they saw as a mandate. "Republicans were affirmed both to go to Washington … and affirmed at home," RNC chairman Reince Priebus said. The election has some potentially serious consequences for 2016: A sweep this year makes it much less likely for Democrats to take back the Senate in 2016, even if they win the presidency. But it doesn't mean that voters should be girding themselves for President Ted Cruz in 2016, either. For the last two decades, neither party has held control of the Senate for more than eight years. For all the rhetoric you'll hear in the coming days from Republicans that this is a mandate, it isn't. Republicans still have a real challenge putting together a winning coalition in presidential campaign years. Democrats still have a hard time putting one together in the midterms. None of that appears to have changed on Tuesday night.
*This post has been updated throughout.