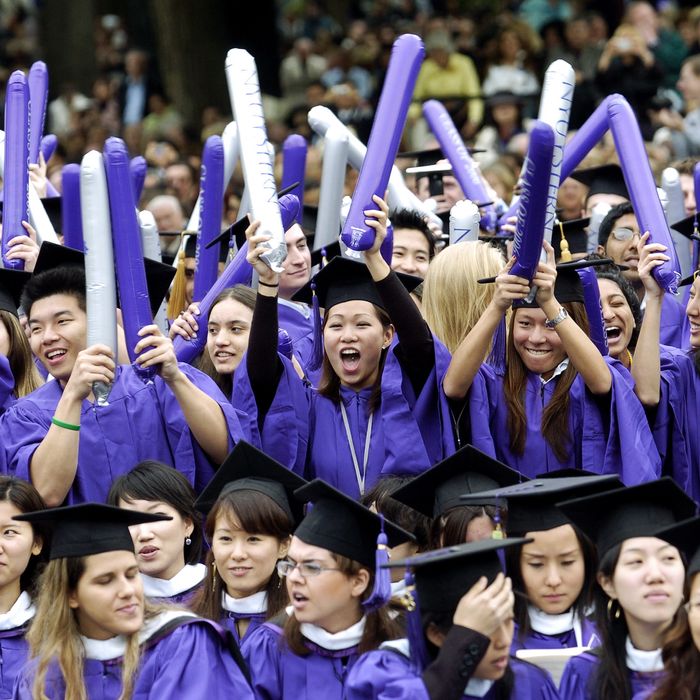 Photo: New York Daily News Archive/Getty Images
New York University is at the top of yet another college rankings list, but it may not be the one it'd hoped for: The school is now the country's leading educator of foreign students, beating out its West Coast rival, the University of Southern California. Well-paying foreigners make up about a fifth of its student body, way more than the national average of 4 percent.
USC had held this crown for 13 years, with about 10,900 of the school's students hailing from abroad — a number narrowly edged out by NYU's 11,100 international students. (The Greenwich Village–based school is home to some 54,000 students in total.) And, while having varying classroom perspectives in this international age is no doubt a good thing, NYU is not solely recruiting them for their different worldviews. 
Like most universities in the country, NYU considers how much financial aid an international applicant will need before admitting them. (On its website, NYU even warns that aid is "limited.") As a result, they can predetermine which students they want to spend valuable financial aid on, and which ones are good enough to attend the school — so long as Daddy pays the full tuition. Most of these rich teens are the children of China's elite, making up about a third of the U.S.'s 886,000 international students.