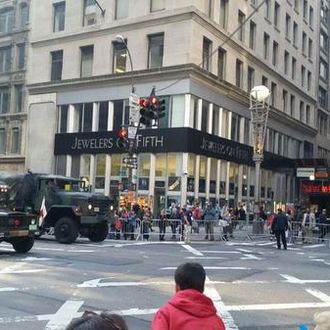 On Tuesday afternoon, two guys robbed an eighth-floor jewelry business in the Diamond District, leading the NYPD to shut down a block of 47th Street while they searched every floor of the building for the suspects. For now, the robbers remain at large, but the New York Post's sources claim to have an explanation for why the men engaged in a heist in the middle of midtown at 2:30 p.m.: The whole thing wasn't planned in advance.
According to the Post, the pair only went to Watch Standard Jeweler to "scare" its owner, Daniel Mikhaylov. Why? It's complicated. Mikhaylov, who has "seven prior busts for driving without a license," recently got into a car crash. For reasons that remain unclear, he decided to ask "a member of a rival Russian gem-dealing family to take the blame for the accident."
Unsurprisingly, this plan didn't work out well: "Sometime later, the 26-year-old man who agreed to the deal and a 35-year-old relative confronted Mikhaylov and demanded $20,000 for the younger man, who lost his license after taking the fall," the Post reports. When Mikhaylov refused to pay, the other dudes sent the two "goons" over to his family's store in an effort to, you know, change his mind. But it turns out that the men "couldn't resist the loot when they showed up, and allegedly made off with about $500,000 worth of Rolexes and other high-end watches, plus some $6,000 in cash" after pistol-whipping Mikhaylov's father, Boris.
What are the lessons here? Don't drive without a license; don't trust your competitors to do you illegal favors without expecting something big in return; and never underestimate the appeal of a midday heist.