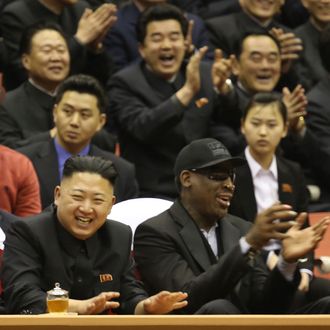 Friends don't let friends unjustly imprison people in labor camps.
Photo: Jason Mojica/VICE Media/AP
After Kenneth Bae and Matthew Miller, the Americans imprisoned in North Korea, were suddenly released on Saturday, the world was left wondering why Kim Jong-un had a sudden change of heart. Many news outlets suggested it had something to do with the possibility of the dictator being charged with crimes against humanity. It turns out the North's boy-king isn't afraid of the International Criminal Court, but he is scared of losing his "dear friend for life." Dennis Rodman claims he secured the prisoners' release by sending Kim a letter that explained how the situation was jeopardizing their friendship.
Rodman shared the proof with TMZ: a copy of a letter dated January 23, 2014 (two weeks after the ex-NBA star blew up about Bae on CNN). After two paragraphs thanking Kim profusely for his recent stay in North Korea, Rodman writes:
I love seeing you my friend, and I say that with much respect and great admiration for who you are. I want to always come to the DPRK for the rest of my life. Unfortunately, I write to you saddened because as you know my trips to the DPRK have provided a lot of problems for me and my career here living in the United States. I would like to come back to the DPRK as soon as possible to discuss the possible release of the American Citizen, Kenneth Bae. I understand the crimes he committed, and ask you my dear friend, the highly respected Marshall Kim Jong Un for his release to show my country how loving and compassionate you and DPRK can be. I believe this is the best way to keep my trips to the DPRK and Basketball diplomacy going. It will be almost impossible for me to come if my country doesn't see how compassionate the DPRK is. I ask for your mercy to prisoner Kenneth Bae and would be eternally grateful for his safe return and make a big step towards bridging the gap between our two nations.
Rodman told TMZ he's sure the letter is what did the trick, though it took Kim ten months to act on it. "No doubt, our trips helped influence Kenneth Bae's release and I'm happy he is coming home safely," said the former NBA star.