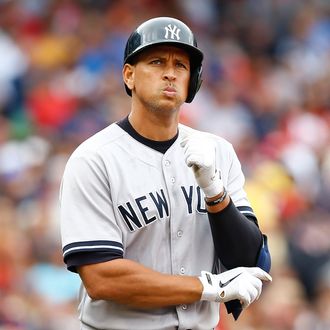 Photo: Jared Wickerham/2013 Getty Images
Alex Rodriguez's lawyer claimed victory yesterday for his star client, even after the Yankee admitted he's been lying for months about using steroids. A-Rod had insisted that he didn't use banned substances and even fought a Major League Baseball attempt to suspend him. But last February, he admitted to federal agents that he'd been paying a drug dealer posing as a doctor $12,000 a month to supply him with PEDs, according to a report in the Miami Herald. Rodriguez came clean to the feds in exchange for limited immunity — he can't be prosecuted for what he said. For lawyer Joe Tacopina, who'd accompanied A-Rod to his interview, that constituted a win. "He didn't get indicted," said Tacopina, "he's not like Barry Bonds and Roger Clemens," both of whom stood trial for lying about their use of banned substances. With his client granted immunity, Tacopina said Rodriguez was in the clear. "It's over. Game. Set. Match," he said.
Last year, A-Rod spent millions to buy stolen documents in an effort to fight Major League Baseball's attempt to ban him. It didn't work. The arbitrator in the case tossed him for a season, the longest suspension in baseball history. But, given recent admissions, A-Rod may have avoided a worse penalty. He was scheduled to testify under oath. Instead, he stormed out of the hearing. Had he lied at the proceedings, he could have faced perjury charges.
Rodriguez still has three years left on his contract with the Yankees, who must pay him $61 million. But there are reports that the team is examining some aspects of his record-breaking contract. A-Rod is said to have a bonus clause under which he receives $6 million for passing the leading home-run hitters of all time. Tacopina declared, "Records are teed up for him to break." However, a sports-industry lawyer said A-Rod's contract doesn't in fact use the word bonus. Instead, a separate marketing agreement calls for the Yankees to pay $6 million for the right to sell T-shirts, caps, and other merchandise to commemorate each "home run milestone." "There's a big question on that," the lawyer explained. "There are serious questions on whether the Yankees can market these home runs as milestones or whether they're even legitimate home runs."
That dispute, though, may be academic. Rodriguez will be 40 years old this season. He underwent two hip surgeries and has a bad knee. The Yankees have said they don't expect him to play third base this year, his usual position. Even as a designated hitter, they're not counting on much production. Tacopina, though, is optimistic. "He's in great shape," he said, "and ready to help his team win games."