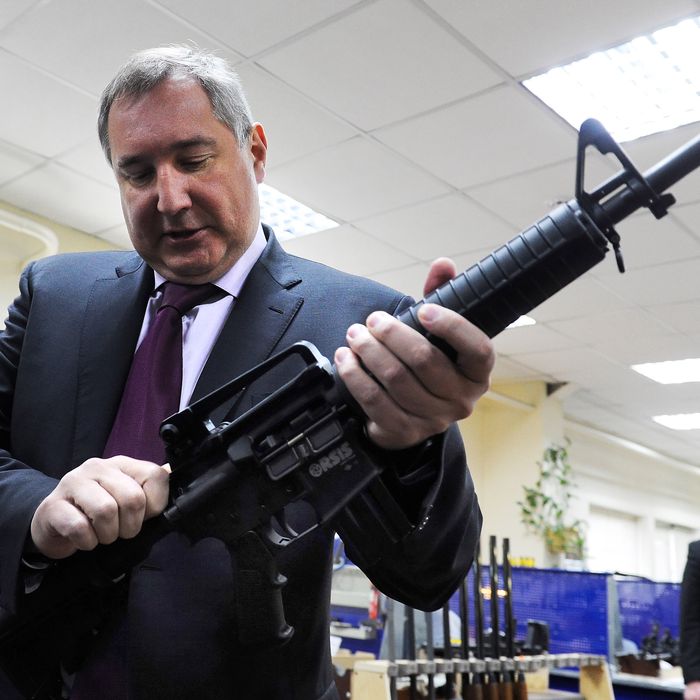 Photo: Gleb Shchelkunov/Kommersant Photo via Getty Images
Perhaps unsurprisingly, a political leader in the country that removed a monument to Steve Jobs because Tim Cook is gay has decided to take their gay-bashing to Twitter. Russian Deputy Prime Minister Dmitry Rogozin is trolling Latvian Foreign Minister Edgars Rinkevics online after the latter announced that he is gay and proud.
Rinkevics made the announcement Thursday, just a day after he was sworn into the post. (He's a member of Unity, a center-right party.) Neighboring Estonia's fourth president, bow tie aficionado Toomas Henrik Ilves, quickly congratulated him, and had a good sense of humor about mass media confusion over which Baltic state he represents.
But not Rogozin. No, the Russian defender of morality and family values lashed out:
"Is that his point of pride? Although if you've got nothing else to be proud of, you can be proud of this, too," the Russian-language tweet reads, adding some good old-fashioned imperialism to homophobia. Rogozin went on to write that he "didn't know that gay is a synonym for Russophobe."
Such an admission would undoubtedly spell an end to a government career in Russia, and Rinkevic's announcement is just the latest sign that many European ex-Soviet states are choosing the West rather than Russia's new Eurasian Economic Union. The ultimate irony in the region will be seeing whether anti-Russian sentiment will propel LGBT rights in Ukraine. If it does, Russia is apparently already ready to fight back with tanks at the border.