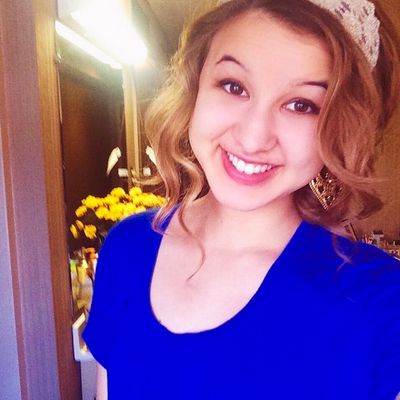 Photo: Saira Blair/Instagram
Saira Blair's victory over a grown woman in a local West Virginia House of Delegates race last night doesn't mean she gets to skip school. "Saira is in class right now," a rep told Intelligencer this morning when we requested an interview with the state's youngest lawmaker ever.
Blair, who is 18, beat a two-term incumbent in the Republican primary for West Virginia's 59th district in May, when she was just 17 years old and too young to even cast a vote for herself. (She turned 18 over the summer.) This fall, she took on her freshman year at West Virginia University and, also, her real race against local litigator Layne Diehl.
Once she finished school, the soft-spoken teenager took some time after her easy win last night — she got 63 percent of the vote in a three-way race — to tell us about her politics and what the future may hold.
Hey, Saira! Congrats on your big win last night. How did that feel?
Good. It's good, a sigh of relief. Just that, you know, after almost two years of working toward it, Election Day is here and past, and now I can start working towards bringing a better state to the people of West Virginia.
And I hear you were back in class this morning?
It was the same as any other day, just waking up and going to class. I want to make sure I can balance the two. I have to keep my grades up — there was no time to rest.
Were you expecting a victory?
Um, no … I mean, I think that I gave myself as good a chance as any other candidate; I worked really hard and gave it my all. I kind of considered, whether I win or lose, I gave it my best and waited for the results.
Obviously, the thing people are talking about most is how incredibly young you are. How do you think this will shape you as a lawmaker?
I think my age allows me to bring a fresh perspective, but I don't want it to become the main focus, because my job is taking the views of the Eastern Panhandle to Charleston. And I feel like I'm going to do that, and that would be my main goal no matter what my age: to represent the people of Morgan. My age allows me to go in without bias and to represent their views as fairly as possible.
You talk a lot about jobs. Why is this such an important issue to you?
Jobs hits me close to home because I've watched many students close to my age get their high school and college diplomas in West Virginia, but then leave because they can't get jobs. Our population has been the same since the '80s and soon it's going to be the only state declining. It's hard, because I want to stay in West Virginia and raise my family here, but the job market just doesn't exist right now.
And now you have a job as a member of the House of Delegates. Have you held any other jobs?
I've worked for my parents' apple orchard as well as their water softener company for years. That's actually how I raised the money for my campaign when I first decided to run: I put in $3,600 because I wanted to show people that I had skin in the game.
Your dad is a state senator. What kind of influence has he had on your political career?
He's been one of my biggest role models. I've shadowed him for years, attended events, and developed a lot of my views around the ones I've seen him hold. We don't agree on everything, but he has made a big impact on why I decided to run.
What are some of the issues you disagree on?
One is that we're both pro-life, but I do not support Plan B contraception, whereas he does. And there's just smaller issues that will probably come up as we begin serving together in January.
A lot of talk has focused on you being a fiscal conservative, but you're also not very shy about being a social conservative. Why do those issues matter to you?
I think it stems back to the district that I represent. Those issues are extremely important to my district and therefore they're extremely important to me.
And those are the issues millennials tend to be more liberal on, particularly on issues like same-sex marriage. How have your friends and classmates responded to that?
A lot of my friends actually have the same views as I do, but a lot of them aren't as open about it because of the criticism that millennials get for standing up for their conservative social views. I think because of the social-media age, students speak out about these issues, and they get criticism. It's so easy to criticize from behind a computer screen that it prevents young people from standing up for how they really feel.
Now, as a fellow millennial, I'm obligated to ask you about your favorite social-media platform.
My favorite is probably Instagram.
And what's your favorite filter?
X-Pro, I think that's a filter? X-Pro low or something?
You just started, but do you know what you're studying in college?
Economics. I think economics will allow me to bring a good perspective to the House of Delegates, as well as the fact that it's a very versatile subject. I don't believe in career politicians, so after I complete my term in the House of Delegates, I want to move on to become a financial adviser.
I guess that answers my last question, about what kind of political future we can expect from you.
It's too soon to tell. I do believe in term limits, so I won't serve more than eight years in the House of Delegates. Then I believe in either moving up or moving out. I'm not looking to climb the ladder.
This interview has been condensed and edited.